A budget for today, but more is needed to meet the needs of tomorrow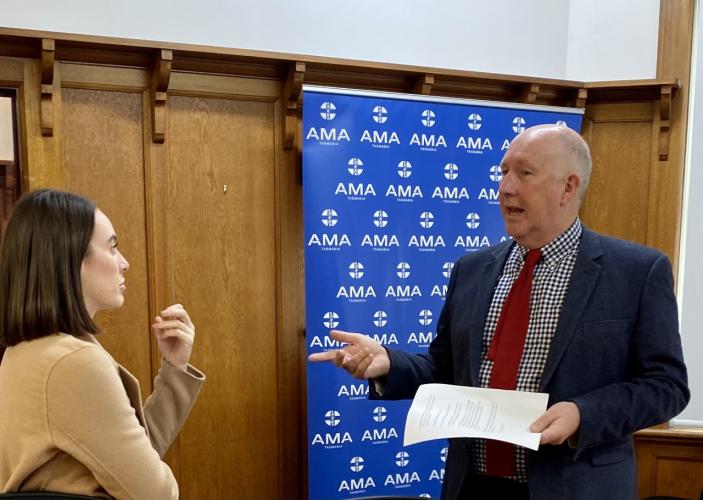 AMA Tasmania welcomes the increased investment in health services as announced in the budget to help alleviate immediate pressures in our hospitals today. However, more needs to be done to prepare for tomorrow.
We have a population growing older and sicker each year, increasing demand on our services, which have not been keeping up – hence our elective surgery lists have blown out, and our emergency departments are at breaking point.
We need more vision, more action, more investment.
ICT (Information and Communications Technology)
All parts of Tasmania's health care system, primary and acute, are linked and depend on each other to meet patient needs and yet cannot talk to each other electronically; this can only be achieved by investment in IT infrastructure and ICT strategy.
We welcome the government's ongoing commitment to improving the Human Resources ICT systems and the additional $15m to start work on a 10-year Digital Health Transformation Plan; however, we cannot stop there.
Disappointingly, this budget does not go anywhere near delivering the $400m investment for the virtual hospital of the future the AMA has repeatedly called for. We are beyond pilots; we want action.
Such investment would help deliver services to you in your home, allowing you to better manage and monitor your chronic health conditions. It would also help lessen your reliance on a physical hospital bed when you are sick if care can be delivered to you with other supports from your own bed, e.g., remote monitoring of blood pressure that reports to your GP (General Practice) or Hospital care team in real-time.
A $400m commitment would transform the way we deliver health services now and into the future.
Hospitals
The commitment to increase the number of beds in our hospitals is critical to help to address bed block within the EDs (Emergency Departments) and enable more elective surgery to be performed on Tasmanians, who have been waiting far too long to get life-changing treatment.
It is important to note that the increased investment in elective surgery will impact admissions in our EDs (Emergency Departments) that are already struggling to cope with demand. This is because a portion of patients will need to be re-admitted for further treatment post-surgery. At this point, all hospital admissions come through the ED (Emergency Departments). Hence the need for more beds to be opened throughout the hospital so patients can be admitted and not left to wait far too long in a bed blocked ED is critical.
But those beds can only be opened if we have the doctors, nurses, and allied health staff to staff them. We will not recruit and retain the promised 280 additional FTE health staff unless we are serious about ensuring they receive pay parity with other states.
We are competing for the same limited resources of doctors across Australia. Few doctors will move to Tasmania when at the absolute best, they will receive a $100,000 pay cut and, at worst, have their salary halved.
A system that depends on locums is not the answer.
The $20m equipment fund is welcomed, and the commitment to a new angiography suite and equipment upgrade is important. We would urge the government to complete planning works for the new angiography suite as quickly as possible. 2023/24 is a long time away from these much-needed services.
Clinical Services Plan
AMA Tasmania is committed to the principle of providing the right care at the right time in the right place for all patients. This can only be achieved with an effective State-wide Clinical Services Plan. The government has committed to undertaking this work; therefore, we are disappointed to see no reference to this in the budget and trust that the work will be done as it should underpin future infrastructure planning.
Health Infrastructure
Launceston General Hospital
While we welcome the ongoing commitment to expand the LGH (Launceston General Hospital), the state-wide clinical services plan should be developed as soon as possible to help inform the building works. Instead, we have local masterplan clinical service planning being done to fit the building footprint, without the larger piece of State-wide CSP work to inform it.
North-West
We support some ongoing investment into the Mersey and North-West Region to ensure they can provide the best service possible for today. However, again there is no vision in terms of the needs of the North-West for tomorrow.
The AMA strongly supports a single new hospital for the Northwest Coast and is disappointed there is no funding in the budget to help progress the early consultation phases with the community.
The government can no longer ignore the need to seriously investigate a single hospital for the North-West, considering COVID and the problems they have faced this year with old infrastructure and insufficient staff to keep all services going. COVID has highlighted just what happens when a health care system is built upon casual or temporary workforce arrangements.
Royal Hobart Hospital
The continued investment in the RHH (Royal Hobart Hospital) is critical, particularly the expansion of the ED and ICU (intensive care units). The RHH ED currently has 31 beds and often double the number of patients who need them. However, the AMA wants the thirty-year master plan to be accelerated in its totality to enable all parts of the hospital infrastructure to meet today's and tomorrow's needs.
Support for General Practice
We need to think differently about how we most effectively mobilise our workforce and utilise available resources in Tasmania to ensure Tasmanian's remain well and out of the hospital. Some conditions, e.g., minor fractures, infusions, wounds, asthma, and diabetes, do not always require admission or treatment by a medical specialist in a Tasmanian Public Hospital; however, currently, these patients end up in the public hospital system because there is no alternative.
AMA Tasmania notes the additional $5m for General Practice to enable them to extend hours of operation and bulk bill health care card holders after hours. This funding must be available on an equitable basis to all GP practices that offer extended hours and not just new services. Currently, this is not the case, with only new practices being eligible for the funds. This will drive existing practices already offering this service out of business.
It is also important that access to after-hours radiology and pathology services is supported for GPs (General Practitioners) to access x-rays and blood results in the community rather than having to refer patients to the already overcrowded EDs.
While we do not oppose the extended hours GP initiative, AMA Tasmania urges the government to establish and fund GP led primary care short-stay units across the state. These would be staffed with Specialist General Practitioners drawing upon their skills and capabilities and supported by hospital medical specialists. These centres would manage a host of medical conditions and discharge patients back into community care within 24 hours.
Rural Hospitals
We welcome the additional staff to provide for a safe staffing model in district hospitals. It is vitally important that the Rural General Practitioners who support these hospitals are not forgotten through this process. They are not adequately recompensed for the work they do caring for patients in these facilities, which is not helping to attract and retain their services in these facilities.
Single Funder Model for Health
Improvements across all aspects of the Tasmanian health care system would be best delivered through the federal and state governments reaching an agreement on a single funder model for the entire health system in Tasmania. This would bring primary health delivered by General Practice under the same umbrella as services provided in the acute system. The left-hand does not know what the right hand is doing, and systems are disjointed and operating under different expectations leaving GPs, other health workers and patients confused.
Mental Health
AMA Tasmania welcomes the commitment to the ongoing funding of the Housing and Accommodation Support Initiative.
CAMHS (Child and Adolescent Mental Health Service)
The $41.2m committed to the implementation of the review into CAMHS is welcomed. AMA Tasmania calls on CAHMS to ensure that more than one child psychiatrist supports the North-West region. A single person service is unsustainable.
Acute Mental Health
The expansion of Mental Health hospital in the home program to the North-West is welcomed. However, more inpatient beds are required, especially at the RHH, where mental health patients continue to spend far too long in the ED waiting for admission into the hospital. This can be for days which is not good for their mental or physical health, and blocks beds for other patients.
A clinical services plan is also required for mental health services to determine the service gaps in the system and how many health staff are needed to deliver services. We know of services that rely on one consultant psychiatrist, which is unsustainable, and mental health teams that lack key nursing and allied health staff. Like in the acute care sector, unless we start to address the salaries of these health staff, including doctors, we will fail to attract and retain the doctors, nurses, and allied health staff we need.
Alcohol and Drug Services
AMA Tasmania acknowledges the additional $10m to be spent in the non-government sector on residential beds and other NGO initiatives. We are disappointed that increased expenditure is not promised for the government detox services at St John's Park. The Alcohol and Drugs Service needs more staff from administration to clinicians, and it desperately needs new premises to provide detox services.
Social determinants of health early childhood initiatives
Welcome the investment in the Child and Youth Wellbeing Strategy. Supporting the first 1000 days of a child's life will help to lead to better long term health outcomes for our children. The emphasis on helping vulnerable families is particularly welcome to provide that critical care for young children in their infancy and early childhood. >>>ENDS.