Ambulance ramping at crisis point
Two Queenslanders have died in a matter of days while waiting for or in ambulances. This is a tragedy for these patients, their families, and the healthcare workers who tried to save their lives.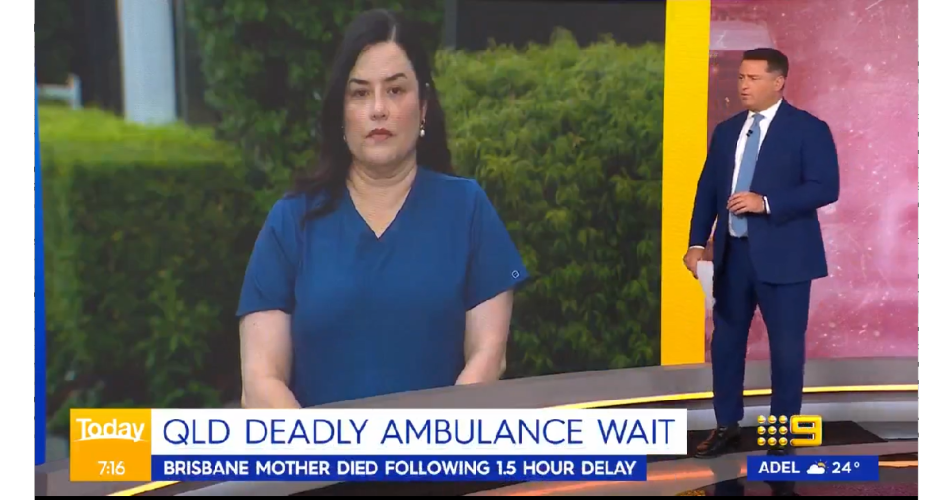 Transcript: AMA Queensland President Dr Maria Boulton, Today Show with Karl Stefanovic and Sarah Abo, Wednesday 21 November 2023
Subject: Ambulance ramping
---
KARL STEFANOVIC:   Well, we now have two victims of the ramping crisis facing our hospitals, two faces, two loved ones who have died just waiting for care. A 51-year-old mother dying after an ambulance failed to show up to her home in Brisbane. And that comes just days after a grandfather, Wayne Irving, lost his life waiting on a ramp for a hospital bed at Ipswich Hospital. We're joined now by Queensland AMA President Dr Maria Boulton. Doctor, good morning to you. We know our ambulance officers do their very best. They're under the pump at the moment but from any perspective this isn't good enough.
DR MARIA BOULTON:   Oh, this is absolutely devastating for the patients, the families and all the healthcare workers involved. And this is what healthcare workers have been worried about. The system is under such strain that we knew that it was only a matter of time before these tragedies happened. And the thing is, that it's not good enough. We've been talking about this at length, Karl. And, you know, the time for change was yesterday. We know that there are movements in place from the state government to try and reduce ambulance ramping. But it's just come too late for those families.
KARL STEFANOVIC:   You know, I saw the family on Weekend Today over the weekend and just their pain in telling their story. And now you've got a mother, a 51-year-old, repeated calls to 000 and now they're grieving her loss. I mean, if it's happened twice in a week, it can happen again.
DR MARIA BOULTON:   It is devastating. And this is what happens because the system is under such strain. We know that our healthcare workers do the best they can in a system that is completely broken and this is not on them, but it also affects them because they don't want to lose any lives. They're doing the best they possibly can in a system that's providing very little support for the healthcare workers and the families that are involved.
We've been seeing ambulance ramping for some time now. We know that it's been seven years since the ramping targets have been met in Queensland. We know that they're getting worse. So when you look at 2021, 2022 figures, we have targets that 90 per cent of people should be off an ambulance within 30 minutes and into an ED bed. And those targets were only met 58 per cent of the time and it is not good enough.
KARL STEFANOVIC:   It doesn't get more vulnerable, I don't think, than a 000 call. And if we can't trust that, you can't have any faith in the system, last night at least three south east Queensland hospitals staff could not keep up with demand. Ambulances left waiting on ramps for hours. This happened again last night. So what needs to happen today so that we don't lose any more lives on the way to hospital?
DR MARIA BOULTON:   We've seen some encouraging movement from the state government. We know that there are 2,500 new hospital beds coming and there's a big focus on staff retention and recruitment. But once again, these are changes that should have been made a long time ago. We also need the federal government to step up. We need increased funding. We need to go back to the 50-50 split funding that we had before COVID. For Queensland, that would mean an immediate $1.5 billion to support our staff, to support our paramedics and to support our patients in the community so that these tragedies don't continue to happen.
KARL STEFANOVIC:   And it needs to happen now. Good on you. Thank you so much for your time.