National Conference starts Wednesday
22 Jul 2021
Just five days to go before the start of AMA National Conference. Don't forget it's free for members to attend, but you need to register. See the packed program at the natcon page of the AMA website.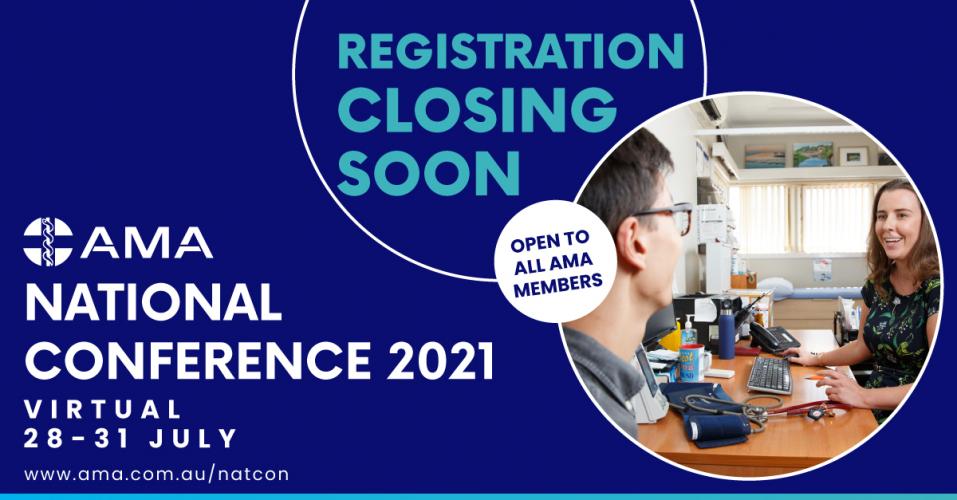 NatCon will be addressing many issues which affect you and now and will also look at how we will be working in the future, with national and international speakers sharing their experiences.
While the global pandemic has shaped everything, among the important subjects for us in Australia is the crisis in our public hospitals.
Pressure on the acute hospital system is usually attributed to an ageing population and rising chronic disease, which drive a drive a year-on-year increase in emergency department (ED) patient volume.
The conference will discuss what other factors are at play, making this crisis more complex than others.
Grappling with these questions will be front-line ED physician and Vice President of AMA Victoria Dr Sarah Whitelaw and President Elect of the Australasian College for Emergency Medicine, Dr Clare Skinner, giving first-hand perspectives.
Former state and federal AMA president and Brisbane GP, Dr Steve Hambleton will provide the GP's perspective. Dr Hambleton is also Co-Chair of the Commonwealth Primary Health Reform Steering Group and Chief Clinical Adviser to the Digital Health Agency. The session will be chaired by Fiona Davies, Chief Executive Officer of AMA NSW.
The AMA has recently been calling for shared 50–50, Commonwealth–State funding arrangements for public hospitals, as well as the removal of the artificial cap that stops our system meeting community demand.
Registration for National Conference is closing soon, so don't miss out. Visit https://www.ama.com.au/natcon to register and see the full program here.