Work/life balance - Dr. Maurice LeGuen
17 Jul 2015
After completing medical school at the ANU in 2007 I spent two years in Wagga Wagga as an intern and resident. The Base Hospital provided me with excellent opportunities to develop a broad range of junior medical experience including rotations in paediatrics, intensive care and anaesthetics. Whilst in Wagga I was also president of the RMO society and led the initial development of a medical clinical handover project and managed to squeeze in a couple of fantastic holidays to New Zealand and Far North Queensland.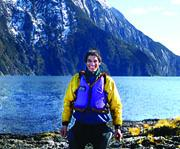 In 2010 I secured a position as a critical care HMO at Royal Melbourne Hospital. During this year I successfully passed the physiology component of the primary examination of the College of Anaesthetists and gained experience in one of the busiest emergency departments in Australia and a large trauma ICU. Once again I managed to squeeze in some time off which included climb­­ing Mt Kinabalu in Borneo.
In 2011, having enjoyed my junior intensive care experience in particular I became an intensive care registrar at St Vincent's Hospital in Melbourne. I successfully completed the anaesthetic primary exami­na­tion and spent three months on rotation to the ICU in Alice Springs gaining experience in one of the most remote intensive care units in the world.
In 2012 I've continued progress towards Fellowship for the College of Intensive Care Medicine (CICM) at St Vincent's Hospital. In addition, I am currently completing studies towards a Masters in Public Health from the Uni­versity of Sydney and am the Victorian Representative on the trainee committee for CICM.