Diversity in medical practice - Dr. Tom Turnbull
17 Jul 2015
I have many fond memories of my time at Canberra Clinic School. I graduated in 2003 and spent the last two years of my Sydney University medical degree at The Canberra Hospital. My strongest friendships from medical school come from my time in Canberra. It was a great place where we started the Canberra Clinical Club to enrich our student lives and provide services where they had been missing prior.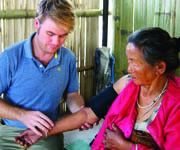 There are many memorable moments from the medical personalities of Canberra involved in our teaching … such as anxiously worrying when Simon O'Connor quizzed us on ECG interpretation; the excitement of Terry Gavaghan letting me traverse a colon with a colonoscopy flying solo; Graham Reynolds giving us wise tips on how to examine fractious children; feeling sick whilst Jane Dahlstrom performed autopsies with us; Michael Falk telling us that even the cleaner would be able to answer his simple acid base question; and David Hardman singing along to the Mikado in theatre whilst making us memorise the layers of the foot … many funny memories.
I ended up returning to Adelaide for my internship, as I felt I needed my family's support during my internship. Royal Adelaide Hospital was a painful experience starting in general medicine with a sick and absent registrar, many frail and near to death patients and feeling completely overwhelmed with my lack of experience and knowledge.
Thankfully I had some good experiences too and got to meet my local general practice training provider through medical education sessions.
After resident training I entered GP Training and chose to take rural training pathway due to my interest in procedural skills, the extra training year, and for a challenge.
I relished rural general practice and enjoyed working in Clare Valley, and would often find many bottles of wine as gifts and thanks for the hard work. I had the opportunity to deliver the child of my receptionist. Her age is now a time post for when I was last working there.
Later in my training I developed and got approved the first overseas post to Nepal and worked in a hospital in Eastern Nepal with a GP supervisor from Adelaide. I worked in the emergency department and was also involved in the teaching program for medical students. It was a very challenging time seeing such sick patients with very little resources to care for them – but it did encourage me to be involved in medical education when I returned home.
My last post was an advanced skills post in sexual health and HIV medicine. It was an eye opening experience meeting men and women living with HIV infection. I learnt to overcome my own fears and prejudices about HIV and challenged me to provide care to some of the more marginalised in our community.
Through my supervisor in Nepal, Jill Benson invited me to start working at Migrant Health Service in Adelaide. I have learnt a lot about tropical diseases, mental illness associated with living in war-torn countries and learning in more detail the cultures of Africa and the Middle East. I initially thought the building didn't have enough oxygen as I had headaches after every time I worked there, but then I realised later I was getting tension headaches. As I learnt more, and became less anxious, the tension headaches faded thankfully.
I continue to teach at Adelaide University Medical School and enjoy working as a tutor in the clinical skills program with standardised patients to teach students the basic tools of history and examination – It is such a pleasure seeing them start with nothing and become nearly competent doctors!
My other job is at a travel vaccination clinic. I sat the Certificate of Travel Health exam in Budapest and enjoy spending a day a week doing travel consultations and talking to people about their next exciting safari trip through Botswana, or volunteering in Burma, or visiting family in Bolivia. It is a nice respite to the week.
Diversity in medical practice suits my nature and personality so I imagine I will always have a few ideas up my sleeve and few more things I want to learn.
Thanks Canberra!