Grim state of ambulance ramping revealed
Ambulance ramping continues to put the lives of Australian patients at risk, as a new AMA report card reveals all states and territories are failing to meet their performance targets.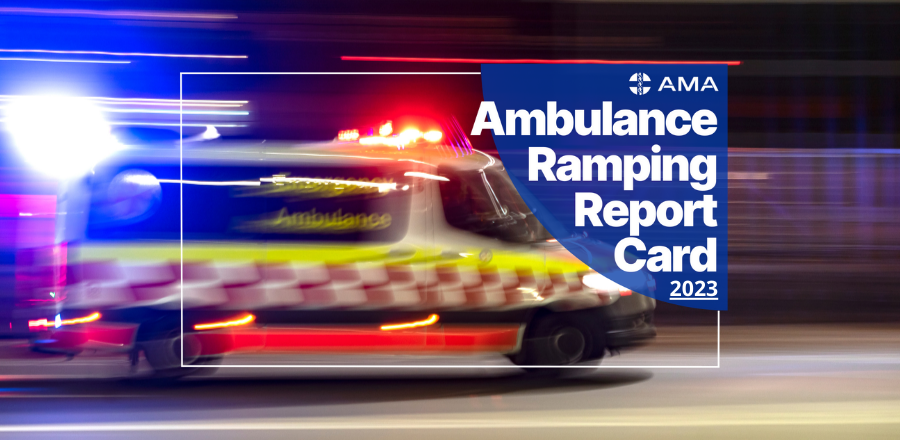 The AMA's 2023 Ambulance Ramping Report Card, which remains the only national snapshot of ambulance ramping in Australia, lays bare the grim state of the country's public hospital system and exposes the concerning lack of data transparency.
AMA President Professor Steve Robson said the report card should make for sobering reading for health ministers across the country, as the data shows ramping is worsening in most jurisdictions.
"Behind every number and every statistic, there is a harrowing personal tale of a patient forced to wait far too long just to be transferred from an ambulance to the ED," Professor Robson said.
"This issue continues to dominate news headlines every day. Patients, doctors, paramedics and hospital staff all deserve decisive action from governments to address ramping, ED overcrowding and hospital logjams."
The report card shows South Australia is one of the worst performing states, with just 42.9 per cent of patients transferred within 30 minutes in 2021–22 — significantly short of its 90 per cent target.
During the same year, 58.7 per cent of patients in Queensland were transferred within 30 minutes, also considerably short of the state government's 90 per cent target.
Professor Robson said measures used to report on ambulance ramping differ between jurisdictions, making it incredibly difficult to determine the true scale of the issue at a national level.
"While we know many states and territories have implemented new policies since the 2021–22 data period to address the issue, it is impossible to know whether they are making a difference due to a lack of transparency," Professor Robson said.
"The haphazard and inconsistent way states and territories report on ambulance ramping data hinders national efforts to improve public hospitals and healthcare across Australia.
"Anyone who picks up a newspaper or turns on the TV can see ramping is still one of the most significant healthcare issues in the country."
Professor Robson said ambulance ramping was a symptom of hospital logjam, caused by a lack of public hospital capacity.
Through the Clear the Hospital Logjam campaign, the AMA continues to call for an urgent injection of funds to address the current logjam and, in the longer term, reform to the National Hospital Funding Agreement to include a 50–50 funding split between the states and territories and the federal government. Funding to expand hospital capacity and funding for performance are also needed.
Read the 2023 Ambulance Ramping Report Card