GP visits a good source of information on adverse vaccination events
20 Mar 2014
A GP consultation the day after vaccination is a reasonable proxy for early reactogenicity, a recent study published in Vaccine has found.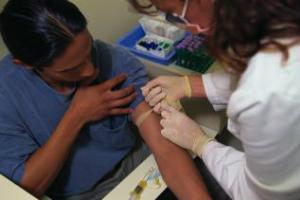 Researchers from the National Centre for Immunisation Research and Surveillance (NCIRS) obtained Medicare data on GP consultations for children recorded on the Australian Childhood Immunisation Register (ACIR) as having received either TIV or monovalent influenza vaccine. Rates of GP consultation on the day following vaccination were then compared. They found that GP encounter rates on the day after receipt of the TIV manufactured by bioCSL (Fluvax®) were significantly higher than seen previously with other influenza vaccines. In 2010, Fluvax vaccination in children under five was suspended following reports of vaccine-related febrile convulsions.
The research showed that the timely addition of new vaccine brand names to practice management software and ACIR notification forms provides an opportunity for monitoring uptake of vaccines and for alerting to any early increase in reporting of adverse events following immunisation. The authors also noted that more education was required about the importance of, and correct way to notify influenza vaccination to the ACIR.