Hospital funding buck passing shows failure of national leadership
The AMA expresses disappointment with both major political parties for their lack of leadership and vision on health issues during the election campaign.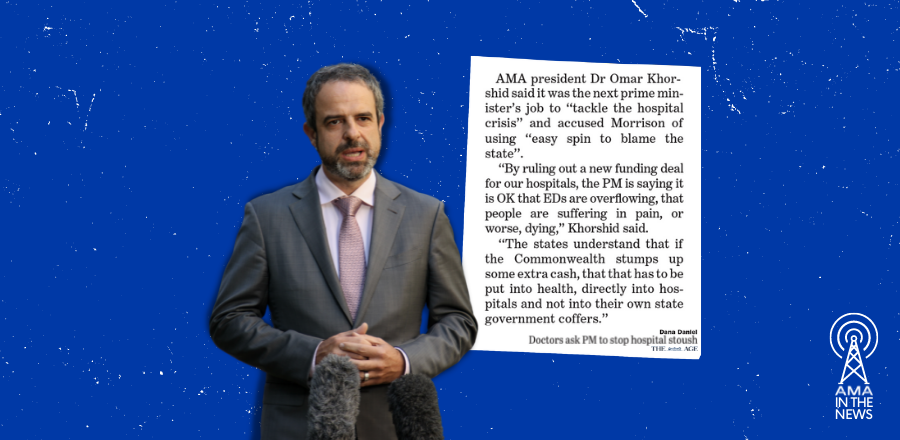 The AMA has decried the failure of national leadership on the public hospital crisis and attempts to buck pass funding responsibilities to the states.
AMA President Dr Omar Khorshid said at a media conference in Sydney that the AMA was very disappointed about the lack of leadership by our national leaders – whether it be Scott Morrison or Anthony Albanese – to address the root cause of the hospital funding crisis.
He later outlined the AMA's argument live on the ABC News channel.
This week Dr Khorshid was live on 3AW radio refuting Prime Minister Scott Morrison's justifications for ruling out an increase to the Federal Government's share of hospital funding because the states would cut theirs in response.
Dr Khorshid told the Sydney Morning Herald that it was the PM's job to "tackle the hospital crisis" and accused Mr Morrison of using "easy spin to blame the state".
"By ruling out a new funding deal for our hospitals, the PM is saying that it is OK our hospitals are ramped with ambulances. He is saying that it is OK that EDs are overflowing, that people are suffering in pain, or worse, dying," he said.
"There is no excuse here. States would not seek to reduce their contribution as has been claimed by the Prime Minister. The states understand that if the Commonwealth stumps up some extra cash that has to be put into health, directly into hospitals and not into their own state government coffers."
He said it was not good enough for Opposition Leader Anthony Albanese to promise to negotiate on hospital funding after the 21 May election, saying Labor's position was no different to the Coalition's.
Dr Khorshid told the SMH, "Of course they'll negotiate....That doesn't mean they'll actually come to the party when it comes to the funding.
AMA Vice-President Dr Chris Moy told the Brisbane Times that it was time for state and federal governments to "have a grown-up discussion for a way to adequately fund health without the blame game."
Dr Moy told the ABC that Australians would be the ones paying the price if a funding agreement was not struck soon. 
"It's basically allowing people to continue to suffer, not getting the care that they should receive," he said.