Not too late to join NatCon
29 Jul 2021
We've had some great webinar sessions so far, and there's more to come. So if you haven't already, check the program for sessions of interest and register to join.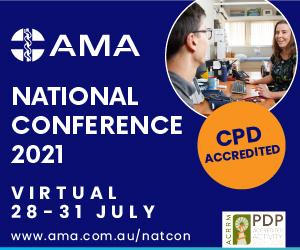 Here's what we still have ahead:
Friday 30 July
7:30pm- 9:30pm Supporting doctors health through COVID and beyond – the international experience
7:30pm- 9:30pm Global medical action on climate change
Saturday 31 July
10:00am-12:30pm Conference Plenary
10.10am: Address from the Prime Minister, Scott Morrison

10.40am: Address from the Minister for Health, Hon Mark Butler

11.10am: Address from Prof Michael Kidd AM

12.10pm: Address of the AMA President, Dr Omar Khorshid
1:30pm-3:30pm National Conference Appointed Delegates
1:30pm-3:30pm Update on changes to CPD
Register here: https://www.ama.com.au/natcon
Don't forget that if you wish to claim CPD points, you must be registered.