Three familiar faces honoured with special President's Award
Outgoing AMA President Dr Omar Khorshid has recognised Professor Kerryn Phelps AM, Dr Chris Moy and Associate Professor Dr Rosanna Capolingua with the special President's Award for outstanding service to the Australian Medical Association.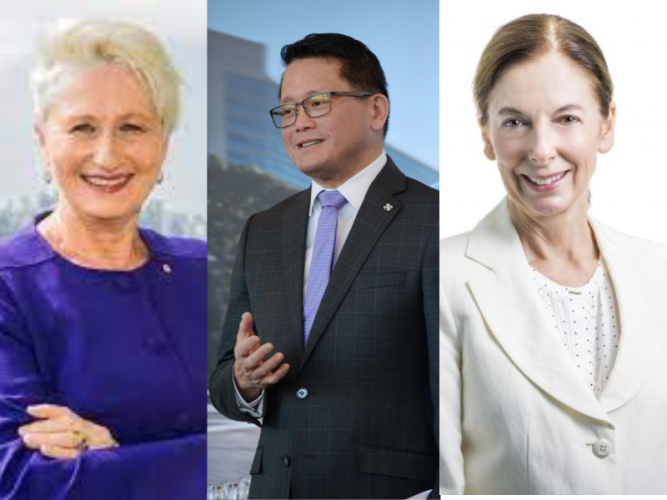 Dr Khorshid said the two past AMA Presidents and out-going Vice President had been outstanding leaders during their time in office.
"As AMA President, Professor Phelps played a leading role in resolving the emerging medical indemnity crisis, established an advisory committee on Indigenous health, and was the first AMA President to publicly state the effects of climate change on public health.
"She also served as Deputy Lord Mayor of the City of Sydney, and as the Federal Member for Wentworth, taking the seat after the removal of former Prime Minister, Malcolm Turnbull.
"On arrival in Federal Parliament, she secured Opposition and cross-bench support to amend government legislation to give greater authority to doctors to allow medical evacuation of asylum seekers to Australia from Nauru and Manus Island."
Dr Khorshid said Dr Chris Moy is often referred to as 'Australia's hardest working GP' for good reason.
"He's one of the few doctors to do home visits for his elderly or incapacitated patients, as well as to patients in nursing homes, despite inadequate systemic remuneration.
"As Vice President, he has been a fearless and relentless advocate, highlighting the health risks to the community and calling governments to task when needed throughout the pandemic in countless media appearances.
"He has worked with the Commonwealth Department of Health on shaping COVID vaccine policy and vaccine indemnity arrangements and used his Vice Presidency effectively to help secure nearly $1 billion for increased primary care funding from the new Federal Government.
"I want to personally thank Chris, whose humanity is on display every day in his work. The AMA will truly miss his energy, commitment and sunny personality."
Dr Khorshid said Associate Professor Capolingua, Chair of the AMA Board and president from 2007 to 2009, was one of the unsung heroes of the AMA and her contribution over the decades had been outstanding.
"In 2021, she agreed to a request to serve as Chair of AMA Ltd, the first former President to do so. During this time, she has overseen an organisational restructure at the AMA and the adoption of a financial strategy that has stabilised AMA Ltd's finances.
"She has also overseen the relocation of AMA's Federal Secretariat, and the adoption of Environmental, Social, and Governance (ESG) principles to assure environmentally sustainable investments.
"All this while continuing to practice as a GP in Western Australia and occasionally writing newspaper columns for The West Australian as well. I want to thank Associate Professor Capolingua for her extraordinary service to the AMA," Dr Khorshid said.
FURTHER BACKGROUND ON AWARD RECIPIENTS
PROFESSOR KERRYN PHELPS
Professor Phelps served as president of the New South Wales branch of the AMA in 1999. The following year she was elected the AMA's first female Federal President, serving the then maximum three-year term.
Professor Phelps graduated from the University of Sydney in 1981 and completed postgraduate training at the Royal North Shore Hospital in Sydney, and at the Royal Australian College of General Practitioners.
She received the Member of the Order of Australia for her services to medicine, particularly through leadership roles with the AMA.
DR CHRIS MOY
Dr Moy graduated from the University of Adelaide in 1991 and is a full-time General Practitioner at Parkside in Adelaide. He is a Patient Digital Safety Adviser for the Australian Commission on Safety and Quality in Health Care, and a member of the Privacy and Security Advisory Committee of the Australian Digital Health Agency.
He has served on South Australia's Falls Prevention Steering Committee, the Expert Advisory Panel of the SA Advance Directives Review, the SA Health End of Life Decision Making Project Working Group and the SA Health Resuscitation Planning Advisory Group.
He has also been Chair of both the Adelaide PHN Central Adelaide Clinical Council and GP Palliative Shared Care Program Operations Consultative Committee.
At the national level, in 2012 Dr Moy was appointed to the Independent Advisory Committee of the national Patient Controlled Electronic Health Record (PCEHR), followed by appointment to the National E-Health Transition Authority (NEHTA) Clinical Usability Program Steering Group and subsequently to the My Health Record Operations Management Committee.
Dr Moy has also served on the AMA(SA) Council and Board, as AMA SA State President and has been a member of the AMA's Federal Council since 2016.
ASSOCIATE PROFESSOR ROSANNA CAPOLINGUA
A/Prof Capolingua is current Chair of the AMA Board and served as AMA president from 2007 to 2009. She was AMA Western Australia State President for two years and is also Chair of the Federal AMA's Ethics and Medico-Legal Committee and the AMA Publishing Company.
A/Prof Rosanna Capolingua is a graduate of the University of Western Australia, and is owner principal of Floreat Medical, a large General Practice in Perth suburb Floreat.
She is Chair of the Child and Adolescent Health Service WA, a Board member of St John of God Healthcare and Chair of its Patient Experience and Clinical Excellence Committee.
A/Prof Capolingua is a member of the Board of Catholic Homes Inc and Chairs its Clinical Governance Committee. She is also Medical Director of the AMA (WA) Youth Foundation, having played key roles in the Foundation since its inception more than twenty years ago, including overseeing the Foundation's successful Dr YES (Youth Education Sessions) program.
A/Prof Capolingua previously served as a member of the Medical Board of Western Australia, the Professional Services Review Committee, and as a Board Director of MercyCare.