Masks give breathing space over Xmas
The AMA in the lead-up to the National Cabinet meeting in a series of media engagements called for a national plan and sensible measures to tackle Omicron.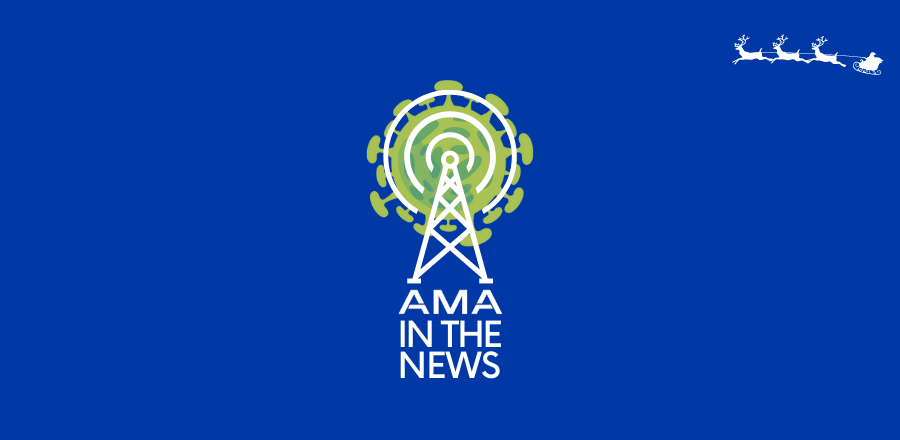 The Australian Medical Association (AMA) has been in the media this week strongly advocating that an ounce of prevention is worth a pound of cure in calling for consistent, commonsense measures to slow the spread of Omicron at Christmas.
Both the AMA President and Vice President were in the media pushing for immediate steps to be taken to provide some "breathing space" over Christmas to stop Omicron, which is spreading "around the globe like wildfire".
AMA President Dr Omar Khorshid at a doorstop interview in Perth broadcast live by ABC News said: "The AMA is calling on our national leaders as they come together at the National Cabinet tomorrow (Wednesday) to make a national plan for dealing with Omicron."
He called for "sensible measures", such as mask wearing, some simple distance requirements and density limits in indoor venues, as "all measures that are absolutely essential to manage Omicron".
Dr Khorshid said on Nine's Today Show that people should be rethinking their Christmas plans.
"If you are planning a mass indoor event, I would certainly urge anyone to rethink those events if there is any chance that Omicron could be coming along to your party," he said.
The AMA supports mandatory mask wearing because relying on personal responsibility during a pandemic is not good enough.
AMA Vice President Dr Chris Moy told Network Ten's The Project that there was inconsistency and tension between States and Territories over the approach to combat Omicron, which was new and did not fit neatly into the "Doherty playbook".
"We need to slowdown, be careful and work out where we stand and in the meantime put in things like masks, QR codes and density limits. But leaders are saying, 'No way, it's Christmas' because they do not want to be seen as the Christmas Grinch."