AMA's plan to improve access to GPs
The AMA's plan to improve access to GPs outlines practical and implementable solutions to support GPs to spend more time with their patients, provide more care, and deliver more health though comprehensive and evidence-based care.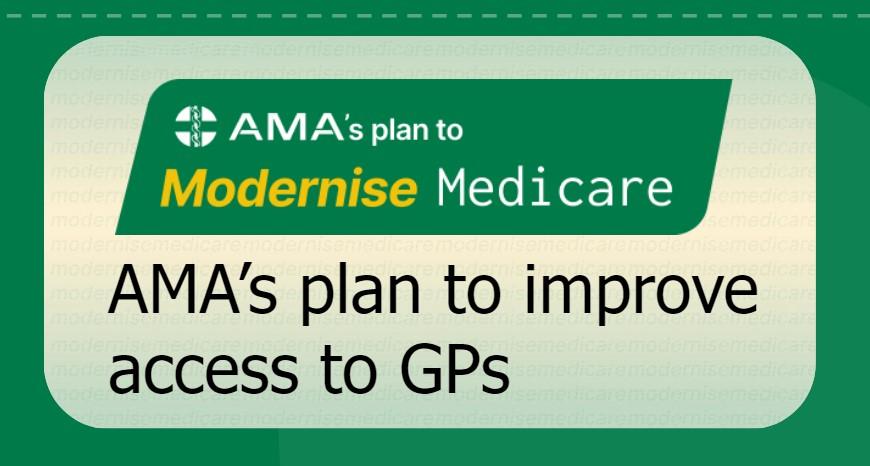 It is evident that Australians are finding it more difficult to access a GP, with growing patient demand, increased burnout from the COVID-19 pandemic, and increased reports of general practices facing financial and sustainability issues. With a population that is growing, ageing, and increasingly developing more complex health needs, and general practice sector under pressure, we need to modernise Medicare to give GPs the support they need to care for the community.
Further outlined on the AMA's Plan to Modernise Medicare campaign website, the AMA's seven-point plan to improve access to GPs includes:
Support GPs to spend more time with patients and improve the indexation of Medicare to better reflect the rising costs of providing high-quality medical care and running a medical practice.

Support general practices to deliver care afterhours

Expand the number of nurse and allied health services available in general practices

Support GPs to provide care to aged care residents

Support general practices to deliver evidence-based wound care to those with chronic wounds
Evolve the GP training program to make general practice more appealing to the next generation of doctors

Introduce VPE as an enabler to patient-centred care, encouraging more patients to develop a long-term relationship with a local GP or general practice, and provide the foundation for every Australian to have their own 'medical home'