Your Family Doctor – Keeping You Healthy: AMA Family Doctor Week
24 Jul 2014
AMA Family Doctor Week 2014 (July 20-26) acknowledges the hard work and dedication of the more than 30,000 GPs across Australia who provide high quality primary health care and advice to their patients in local communities in cities, country towns, and remote areas across the country.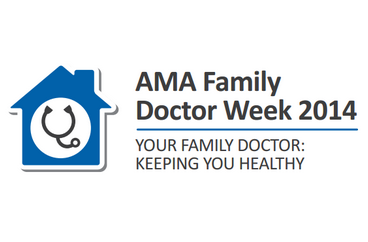 The Family Doctor Week theme this year is Your Family Doctor – Keeping You Healthy, which encapsulates the key role that family doctors play in the lives of their patients, throughout all stages of life.

"Family Doctor Week allows the AMA to highlight all that is good about general practice and family doctors, and it also allows us to discuss issues or policies that need to be resolved to allow general practice to provide even better services to Australian communities," AMA President, A/Prof Brian Owler said.
As part of Family Doctor Week, A/Prof Owler addressed the National Press Club on Wednesday to speak about the Australian Health Care system - its performance, sustainability and affordability - and the central role of the family doctor in its success, the changing role of private health insurers in health service delivery, and the role of prevention and public health.

A number of events and activities have occurred throughout Family Doctor Week 2014, including the daily release of AMA media statements covering a wide range of preventative health and GP policy issues and the production of three videos which highlight that:
Family Doctors provide targeted health care for patients at all stages of life with expertise, understanding, and distinction.
The wide range of preventative care administered by family doctors ensures quality of life for patients and a sustainable heath system.
Knowing the risk factors for preventable medical conditions and discussing these with your Family Doctor will help with monitoring, reducing, and managing those risk factors.
The latter video is mute and has been prepared for general practices to play in their waiting rooms, this week and beyond, for the information of patients on the help GPs can give to people to reduce their risk of illness and disease, such as diabetes, heart attack, obesity, and depression.
All the media releases and videos can be viewed and downloaded from the AMA Family Doctor Week website at https://ama.com.au/familydoctorweek2014.
AMA Family Doctor Week is sponsored by Australian General Practice Training.