What's new in the latest MJA?
18 May 2017
This month's issue of the Medical Journal of Australia features a Perspectives article on Australia's Health Care Homes by Professor Claire Jackson and past President of the AMA, Dr Steve Hambleton. An editorial and research article discuss how to improve the frequency of eye examinations in people with diabetes.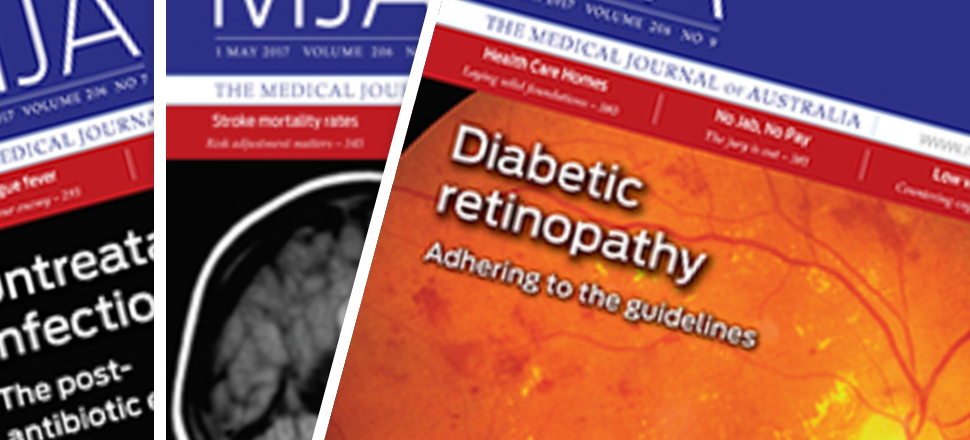 Australia's Health Care Homes: Laying the right foundations discusses the implementation of the Government's Health Care Home (HCH) initiative and the take home messages for HCHs in 2017. The authors state that refining the model for broader implementation is vitally important and that clinician leadership, patient engagement and commitment to digital change will be critical for success.
In Adherence to diabetic eye examination guidelines in Australia: the National Eye Health Survey, Joshua Foreman and colleagues explored how well people with diabetes are adhering to the 2008 recommendations by the National Health and Medical Research Council (NHMRC) for regular eye examinations. It found that about half of all Indigenous Australians with diabetes and almost one-quarter of non-Indigenous Australians with diabetes did not have their eyes examined at the recommended frequency, placing them at risk of vision-threatening retinopathy. The authors recommend an integrated diabetic retinopathy screening service, particularly in remote areas. The editorial discusses the implications of the study's findings and further action that could be taken.