Private health insurers and general practice
14 Nov 2014
AMA President, A/Professor Brian Owler, delivered a speech this week to Private Healthcare Australia. He outlined how the foundations of the Australian health care system must be protected as the role of private health insurance develops into the future.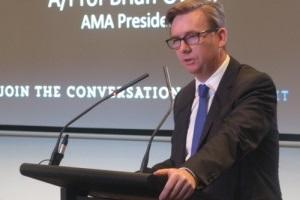 He emphasised the importance of universal access for patients to affordable health care, the preservation of the independence of the doctor/patient relationship, the rights of medical practitioners to set their own fees and preserve the right to fee-for-service arrangements; and supported community rating for private health insurance. He added that the AMA is concerned that these foundations will be undermined as private health insurers enter the arena of general practice.
"However, the AMA does see potential for greater engagement between general practice and private health insurers. The AMA Council of General Practice has been looking at this area for some time. At this point in time, the Council thinks there is scope to explore wellness programs, maintenance of shared electronic health care records, the hospital in the home, palliative care, minor procedures, and GP-directed hospital avoidance programs," A/Prof Owler said.
He cautioned that, in going down this path, universality and equity of access must be maintained and arrangements that tie practices to only one insurer must be avoided. He said that any move to expand the role of private health insurers should be carefully planned and negotiated with the profession to ensure that the outcome is in the best interests of patients, and does not compromise the clinical independence of the profession, or interfere with the doctor-patient relationship.
AMA President's speech to Private Healthcare Australia