NHPA releases latest immunisation data
27 Mar 2014
The National Health Performance Authority (NHPA) released its second annual report on child immunisation rates this week, Healthy Communities: Immunisation rates for children in 2012-13. The report found that approximately 75,000 children (at one, two and five years of age) are not fully immunised. Of those, around 15,000 are recorded as being 'conscientious objectors'. This suggests that many children are simply falling behind the schedule and more should be done to identify these children and refer them to catch up programs.
The number of Medicare Local catchments with less than 90 per cent of five year olds fully immunised has dropped from 23 last year to 13 this year. This is encouraging news. However, there remain 35 Medicare Local catchment areas with more than 1000 children not immunised across the one, two and five year age groups.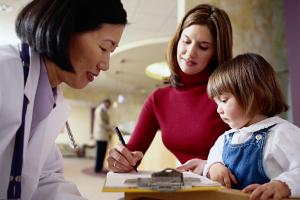 The five catchment areas with the greatest number of unimmunised children across the three age groups are Western Sydney (3,594), South Western Sydney (3,387), Greater Metro South Brisbane (3,196), Metro North Brisbane (2,644) and Inner West Sydney (2,175). The five catchments with the greatest number of children registered with a conscientious objection are North Coast NSW (761), Greater Metro South Brisbane (755), Metro North Brisbane (708), Sunshine Coast Queensland (660) and Gold Coast (652).
The report also found that nationally, 70 per cent of 15 year old girls are immunised for HPV, a rate much lower than for childhood immunisation. This is the first time this data has been reported, however, and hopefully next year's report will show an increase in this figure, given its possible impacts on cancer rates.
NHPA's report will be presented to the Council of Australian Government (COAG) for consideration. The AMA is pleased to see that COAG is considering the issue of child and adolescent immunisation, which is important to the health of the entire Australian community.