New Look DVA Cards
19 Jun 2014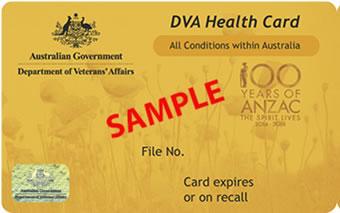 GPs are advised that the Department of Veterans' Affairs (DVA) have made some changes to the DVA Gold, White and Orange Health Cards. Throughout June the new look cards will be issued to eligible DVA persons.
The changes to the new cards are:
the title on all of the cards is now, 'DVA Health Card';
the front of the card has the 100 years centenary of the ANZAC logo on a background of a field of poppies;
the DVA security hologram has moved to the front of the card providing greater visibility of this security feature;
the signature stripe on the back of the card is longer, allowing more room for a signature;
the magnetic stripe for a Gold Card is now gold, on the White Card this is now blue, while the Orange Card retains a black stripe; and
the cards are valid for six years now, instead of the previous four years.