Invitation to be involved in Family Doctor Week
29 May 2014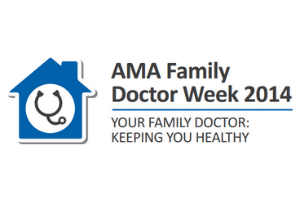 AMA Family Doctor Week will be held on 21-27 July 2014. The theme for this year's event is "Your Family Doctor: Keeping you Healthy".
A number of events are planned throughout Family Doctor Week to promote community awareness of how family doctors are keeping Australians healthy and the role of GPs in preventative health. To find out more visit the AMA Family Doctor Week webpage.
GP Members willing to share their efforts in furthering preventative health in their community and to be featured in the Family Doctor Week edition of Australian Medicine are invited to contact: Odette Visser at ovisser@ama.com.au.