CPD: Improving outcomes for cardiovascular disease in primary care
8 Sep 2016
The Medical Journal of Australia is holding a professional development program which will address challenging issues in the diagnosis and management of cardiovascular disease in general practice. The one day interactive seminar will be held in Melbourne on 22 October and Sydney on 29 October.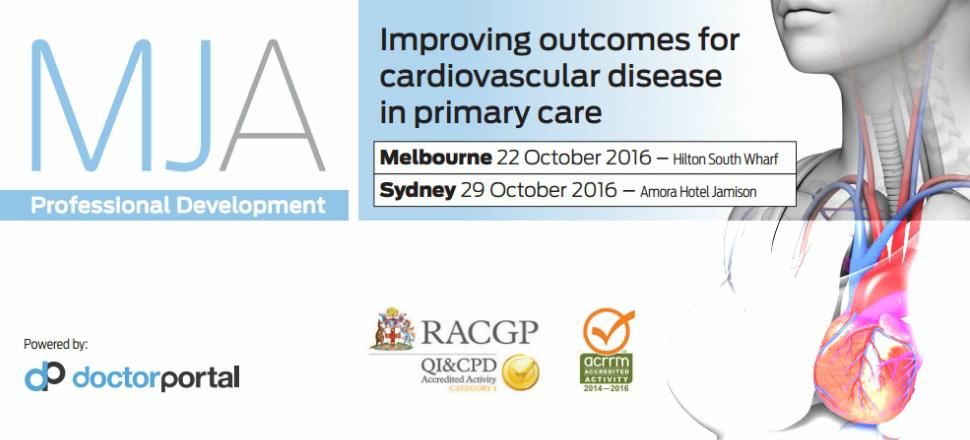 An estimated one million Australians at high risk of cardiovascular disease may not be receiving recommended preventive treatments. For people with an acute coronary syndrome there is a major challenge in the steady drop-off in adherence in the months and years following the acute event. Both patient- and prescriber-related factors contribute to this drop-off.
This active learning module will address questions GPs have about NOACs and their use. The programme will also provide an update on acute coronary syndrome, rehabilitation, health pathways, cardiac screening of athletes and exercise enthusiasts and heart failure.
The module is accredited for RACGP QI&CPD 40 Category 1 points and 30 ACRRM PDP points. A discount is offered to AMA members. Don't forget you can track your CPD points using the AMA's online and mobile friendly CPD tracker at doctorportal Learning.
For more information, including a list of other CPD activities available, visit the Events page on the doctorportal website. You can also email mjaevents@doctorportal.com.au or phone 0295626666 – select option 4.