Australian Medicine latest issue
21 Sep 2017
In the latest issue of Australian Medicine topics include problems of doctor burn-out in Canada, the worrying trend of drug and alcohol use in baby boomers, and the importance of updates to the HPOS system.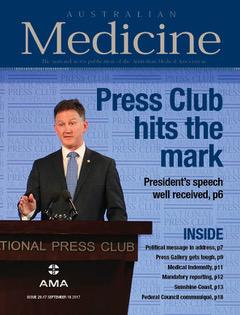 Survey research from the Canadian Medical Association (CMA) has been highlighted that suggests 54 per cent of Canadian doctors have burn-out symptoms. The CMA wants the health care system to better support health care workers by having them work in teams with other health care professionals. For the Australian situation, the AMA has noted the COAG Health Council's announcement to develop a nationally consistent approach to mandatory reporting provisions.
Talking about a patient's use of drink and drugs can be a sensitive issue, but in baby boomers it's one that new research suggests is an important conversation to have. Research from the UK and Australia shows that although risky drinking is declining in most age groups, in people aged 50 years and older it is not. The AMA believes alcohol dependence needs to be prioritised by the Government and was disappointed with the policies outlined in the National Drug Strategy 2017-2026. Read more on this topic in this previous issue of GPNN.
Chair of AMA Council of General Practice, Dr Richard Kidd, provides some perspective on the recent issues of security regarding Medicare numbers. Dr Kidd's article outlines that it is important the Health Professional Online Services (HPOS) stays up to date with technological developments to enable GPs to continue to provide care without additional administration burdens.
The full issue of Australian Medicine can be found here.