Australian Medicine: Budget takes aim at health
15 May 2014
This week's issue of Australian Medicine examines the implications for healthcare as it stands on the frontline of painful budget cuts. There is also an article about the two AMA Presidential candidates and the proposed AMA constitutional changes to be voted on at the National Conference.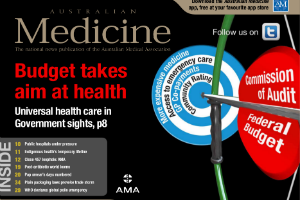 Other stories include:
the World Health Organisation's urgent call for a global effort to address antibiotic drug resistance, as well as its declaration of a global health emergency over the spread of polio;
bad news and good news about the PBS authority line;
an invitation to GP registrars to participate in the AMA survey of GP registrar and hospital-based specialist trainees;
a plea to doctors to keep an open mind about Lyme disease;
the Pharmaceutical Benefits Advisory Committee (PBAC) recommendation that the cystic fibrosis medicine Kalydeco, and the treatment for atypical haemolytic uremic syndrome (aHUS), Soliris, be listed on the PBS through the Managed Entry Scheme, which provides provisional listing subject to proven performance; and
a report that, while the prevalence of type 1 diabetes in Australia is well above the developed country average, the national incidence of the condition has remained broadly stable since the turn of the century, unlike the experience in many other countries.