Australian Medicine: Budget scorches patients
22 May 2014
The Budget handed down last week confirmed many of the AMA's concerns that health costs would increasingly be pushed onto patients. The Federal Government's move to impose a co-payment for GP visits will deter people from seeking necessary medical care and could leave doctors $13 out-of-pocket if they waive the charge for their patients. Additional co-payments for pathology and radiology services, more expensive prescriptions and tighter safety nets will also hit family budgets.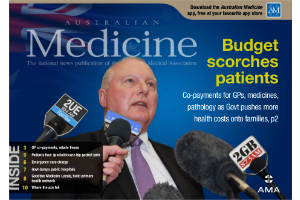 But there were some Budget positives. The Federal Government has announced that the network of 61 Medicare Locals will be replaced with a smaller number of primary health networks (PHNs) as part of measures to streamline the health bureaucracy and reduce duplication of services. This is a welcome and sensible reform, as is an increased investment in GP training and the establishment of a dedicated Medical Research Future Fund. This week's special edition of Australian Medicine includes detailed analysis of these and other Budget measures.
Australian Medicine can be viewed online, in its new, easy-to-use Realview format, and can also be downloaded as a PDF.