AMA supports new app that gives quality scientific information about immunisation
19 Dec 2013
AMA President, Dr Steve Hambleton, said last week that the AMA welcomes the Australian Academy of Science's new Science Q&A app as an important addition to the immunisation evidence base to help parents make informed decisions about the health of their children.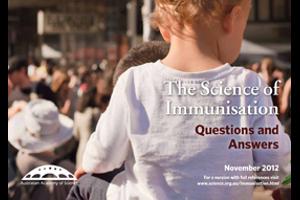 The app – launched in Melbourne by Dr Hambleton, Academy President, Professor Suzanne Cory, and world-renowned immunologist, Professor Sir Gustav Nossal – is a companion to the highly successful Academy booklet, The Science of Immunisation, launched jointly by the Academy and the AMA last year.
Dr Hambleton said the Academy's new app has been researched and developed by Australia's leading scientists and is an important new resource that will help dispel the non-scientific myths and misinformation circulated by anti-vaccination groups in the community. It features strong scientific evidence, clear explanations, and easy-to-understand language that will reassure people, including conscientious objectors, about the safety and efficacy of immunisation.
"It is another useful tool for community GPs, who are the public face of immunisation for Australian families," Dr Hambleton said.