AMA National Conference this weekend – streaming live on the AMA website
22 May 2014
The impact of the Federal Budget on health and the global challenge of non-communicable diseases will be major themes for the 2014 AMA National Conference taking place at the National Convention Centre, Canberra, this weekend.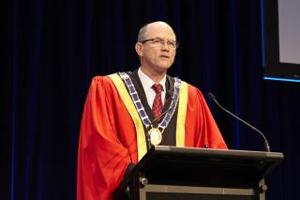 "It is a unique opportunity, in the week after the Budget, for AMA leaders from all around the country to provide their input for our response to the Budget," AMA President Dr Steve Hambleton said.
Conference debates on the Budget and health policy will be informed by first-hand information from the Government with Health Minister Peter Dutton, and his Labor rival Catherine King, addressing the meeting today.
Chair of the AMA Council of General Practice, Dr Brian Morton, will give a presentation on the GP copayment during The Health Budget policy session at midday on Saturday.
Other policy sessions include the global challenge of non-communicable diseases; the challenges of practicing medicine internationally; integrating global health training into postgraduate medical education; the challenge of caring for defence force and emergency personnel who serve overseas; and variation in medical practice between Australia and other countries. Prominent speakers include the Hon John Berry, US Ambassador to Australia, President of the World Medical Association, Dr Margaret Mungherera, and former Defence Minister and former AMA President, Dr Brendan Nelson.
In addition to policy sessions, the National Conference will be asked to make decisions crucial to the future direction of the AMA. Today the AMA General Meeting will be held, at which delegates will be asked to vote on a proposed overhaul of the Association's constitution. The key proposed change would see operational and corporate compliance responsibilities devolved to a governance board, freeing the Federal Council to focus on its prime policy formulation role.
On Sunday there will be a vote for the new AMA President and Vice President. The two nominees for President are current Vice President and member of the Executive Council, Professor Geoffrey Dobb, who is the Head of Intensive Care at Royal Perth Hospital; and AMA NSW President and member of the AMA Executive Council, Associate Professor Brian Owler, who is a Consultant Neurosurgeon at The Children's Hospital at Westmead and other hospitals in Sydney. The candidates for Vice President are Dr Richard Kidd, a Brisbane GP; Dr Roderick McRae, an anaesthetist from Victoria; and AMA Victoria President and member of the AMA Executive Council, Dr Stephen Parnis, an Emergency Department specialist.
The Conference will be streamed live on the Federal AMA website, and the National Conference Twitter hashtag is #amanc14.
For comprehensive coverage of the AMA National Conference 2014, including the speeches by Health Minister Peter Dutton and Shadow Health Minister Catherine King, major policy session presentations and debates, and the outcome of the AMA President election and changes to the AMA Constitution, look out for the Australian Medicine AMA National Conference bumper edition, coming out on 10 June.
More information about the 2014 AMA National Conference.