AMA List of Medical Services and Fees – 1 May 2017 changes
4 May 2017
The 1 November 2016 AMA List of Medical Services and Fees (AMA List) has been updated to reflect the Medicare Benefits Schedule (MBS) 1 May 2017 changes. The update includes MBS changes which have occurred since 1 November.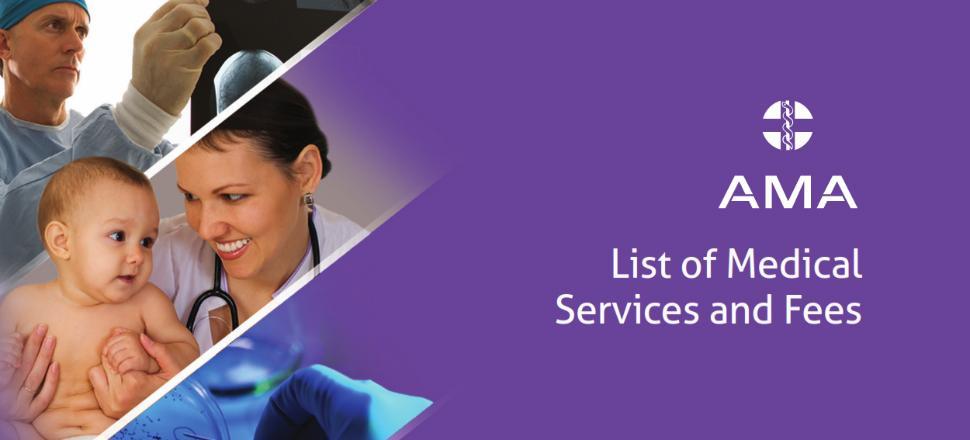 To access the Summary of Changes - 1 May 2017 PDF and updated CSV file, enter your username and password by clicking on the
symbol in the right corner of the blue task bar at the top of the AMA homepage and follow these steps.
From the home page hover over Resources at the top of the page. A drop down box will appear. Under this, select Fees List.
For the PDF and CSV - Select first option, AMA List of Medical Services and Fees - 1 November 2016 (Members Only).
Download the CSV (for importing into practice software) or Summary of Changes PDF (for viewing).
For the Fees List Online Database – the database can be accessed directly via http://feeslist.ama.com.au/.
Members who do not currently have a username and password should email their name, address and AMA member services number to memberservices@ama.com.au requesting a username and password.
The Fees Indexation Calculator [https://ama.com.au/article/ama-fees-indexation-calculator] is also available for members to calculate their own fee increase based on their individual cost profile.
The AMA Fees List Online [http://feeslist.ama.com.au/], where members can view, print or download individual items or groups of items to suit their needs, was updated on 1 May 2017.
AMA members can also access the AMA List of Medical Services and Fees and other relevant tools via the GP Desktop Toolkit on the doctorportal website once signed in.