AMA Indigenous Peoples' Medical Scholarship 2015 – Applications now open
6 Nov 2014
AMA President, A/Prof Brian Owler, this week encouraged Indigenous medical students to apply for the 2015 AMA Indigenous Peoples' Medical Scholarship.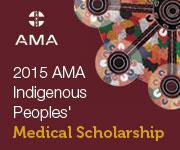 A/Prof Owler said that an important part of closing the Indigenous health and life expectancy gap is to train a highly skilled medical workforce that includes more Indigenous doctors and health professionals.
The scholarship has assisted more than 20 Indigenous men and women become doctors since 1994, many of whom may not otherwise have had the financial resources to study medicine. Read the story of this year's scholarship winner Wayne Ah-Sam.
Applications for the Scholarship must be in by 30 January 2015. To be eligible to apply students must currently be enrolled full time at an Australian medical school and in at least their first year of medicine.
Further information and an application package are available on the AMA website. Enquires can be directed to Sandra Riley, Administration Officer, AMA on 02 6270 5452 (email sriley@ama.com.au).