AMA Family Doctor Week 21-26 July 2014
3 Jul 2014
AMA Family Doctor Week (FDW) is the AMA's annual celebration of the hard work and dedication of the nation's family doctors – the GPs who serve local communities in the cities, country towns and remote areas of Australia. Last year more than 30,000 GPs provided over 130 million services across Australia.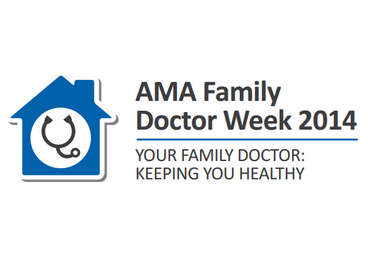 This year, Family Doctor Week is running from Monday 21 July to Saturday 26 July, with the theme Your Family Doctor: Keeping you Healthy.
In line with this year's theme, the AMA will be promoting the vital role family doctors play in keeping the community healthy, particularly through the ongoing and trusted relationship they have with their patients. FDW will help to raise awareness in members of the community that their family doctor is the only person medically qualified to prepare a preventative health screening program for them that takes account of their family history and individual health risk factors.
The AMA has a number of events and activities planned during Family Doctor Week, including:
Family Doctor Week 2014 videos – available soon.
daily media releases highlighting key preventative health issues themes.
the Family Doctor Week 2014 poster for general practice clinics – available now.
a short video on preventative health for general practice clinics.
general practice themed articles in Australian Medicine.
the release of the findings from the AMA's survey on barriers to teaching in general practice
It is not too late to participate in Family Doctor Week. If you would like to help promote the unique and important role of the family doctor in your local community, or would like further information about doing so, please contact Michelle Grybaitis at mgrybaitis@ama.com.au or by telephone on (02) 6270 5496.
For more information AMA Family Doctor Week 2014