AMA Family Doctor Week 2014 Poster
12 Jun 2014
The poster for AMA Family Doctor Week 2014 is now available for download. GPs are encouraged to display the poster in their reception areas and consulting rooms, and on their websites. The poster highlights the Your Family Doctor: Keeping you Healthy theme and the important and unique role that GPs play to keep patients healthy and in caring for them when they are not.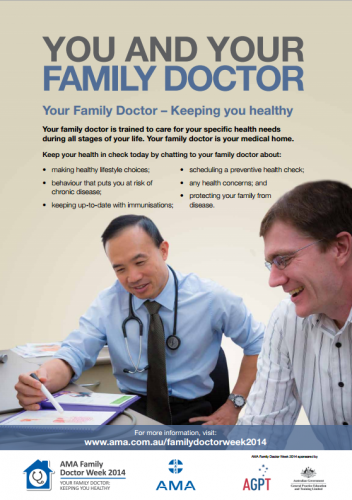 The AMA's annual Family Doctor Week highlights the work and dedication of GPs – Australia's family doctors – and the issues they encounter as they deliver high-quality health care to their local communities. This year, Family Doctor Week is running from Monday 21 July to Saturday 26 July, with the theme Your Family Doctor: Keeping you Healthy.
The AMA has a number of events and activities planned during Family Doctor Week, including:
Family Doctor Week 2014 videos.
daily media releases highlighting key preventative health issues themes.
the Family Doctor Week 2014 poster for general practice clinics – available soon.
a short video on preventative health for general practice clinics.
a general practice themed edition of the Medical Journal of Australia.
general practice themed articles in Australian Medicine.
the release of the findings from the AMA's survey on barriers to teaching in general practice.