2014 seasonal influenza vaccination program: Ready, set, go!
13 Mar 2014
With the 15 March launch of this year's seasonal influenza vaccination program only a day away, media reports this week have already been suggesting this year may see a severe influenza season. By now GPs should have received a letter from the Chief Medical Officer informing them about this year's program and an information pack including an A3 poster encouraging patients to be vaccinated. This year's trivalent vaccine differs from last year as it contains two new strains, making it especially important for those who are at risk to be vaccinated.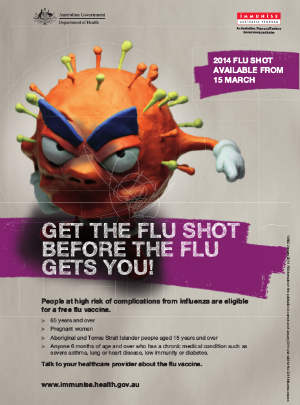 Vaccination is provided free through the National Immunisation Program (NIP) to groups who are at an increased risk of influenza complications, including people 65 years and over; pregnant women; Aboriginal and Torres Strait Islander people aged 15 years and over; and anyone six months and over who has a chronic condition placing them at increased risk of complications from influenza.
GPs are reminded that bioCSL Fluvax® must not be given to children less than five years of age. There are alternative vaccines available for use in children. It is not recommended that bioCSL Fluvax® be given to children aged five to nine years, due to a potential increased risk of fever. However, febrile convulsions are rare in this age group. The use of bioCSL Fluvax® for this age group should only be considered after careful review of the potential benefits and risks.
GPs are encouraged to report all influenza vaccines given to children up to seven years of age to the Australian Childhood Immunisation Register. Any adverse events following immunisation at any age should be reported to the TGA via its revised immunisation adverse reaction form, or through the usual reporting mechanisms in the relevant state or territory.
More information about the 2014 seasonal influenza vaccine is available on the Immunise Australia Program website or call the Immunise Australia Information line: 1800 671 811.
Posters, and Fact Sheets for both consumers and GPs, are also available from the website.