Take the next step towards your career of endless possibilities
13 Apr 2020
General practice is a lifelong learning experience, which is why the RACGP AGPT Program supports a GPs whole career and development.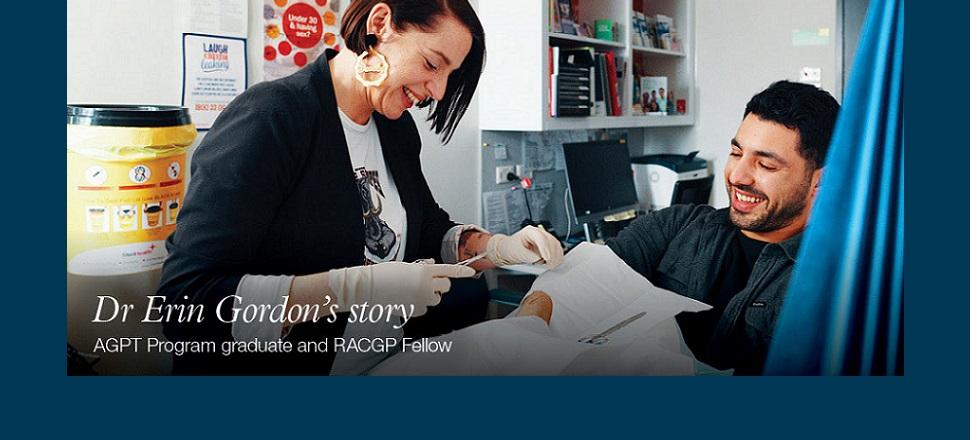 Erin's decision to specialise in general practice was greatly influenced by her fellow medical peers during hospital training in the Northern Territory. Since qualifying, rarely two days are the same for Erin, with her responsibilities covering a diverse range of communities, demographics, and patient challenges.
By providing Erin the opportunity to spread her wings and choose roles that she is passionate about, general practice continues to allow her the flexibility, variety and everyday impact that was initially appealing to her:
Flexibility: Care for and learn from varied communities in urban, rural or remote locations
Variety: Pursue an area of specific clinical interest from an enormous range of choices
Everyday impact: Make a real difference to patients' lives every day – become an integral part of a community
Fellowship of the RACGP
As the leading program for doctors wishing to pursue the specialty of general practice, participants can work towards Fellowship of the RACGP, and join a national community of over 23,000 GPs who have already successfully achieved Fellowship with the RACGP.
For those interested in making a difference in a rural community, there is also the opportunity to get a head start on a rural generalist Fellowship.
Apply now
The Australian General Practice Training (AGPT) Program is now open for 2021 applications.
Act now to secure your place for training beginning 2021. In recognition of the current environment, the application period for the AGPT Program has been extended to allow greater flexibility for applicants during this difficult time. The revised closing date will now be 11 May 2020 at 10 am (AEST).