Medical student motivated to address mental health receives AMA Indigenous medical scholarship
Applications for the 2022 AMA Indigenous Medical Scholarship are now open.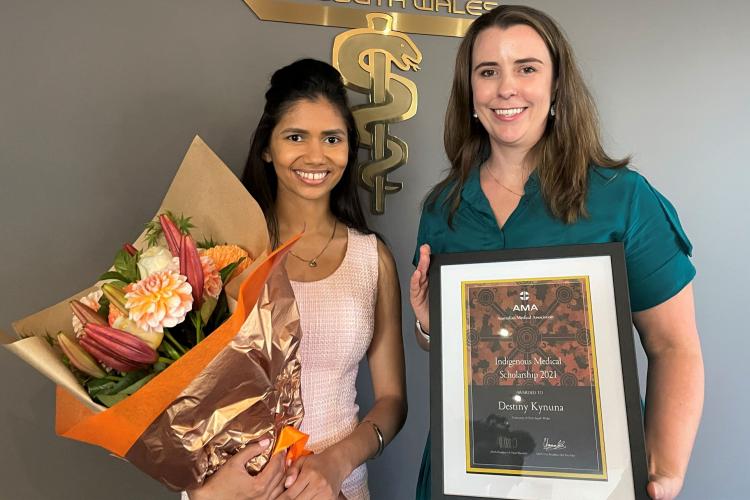 A medical student who has seen 'too many funerals' and the devastating impact of intergenerational trauma in her community is the recipient of the 2021 AMA Indigenous Medical Scholarship.
A proud Koko-bera and Wunumara woman, Destiny Kynuna, grew up in Yarrabah Aboriginal community, 50 kms east of Cairns, and is now half way though her Bachelor of Medicine at University of NSW.
She studies five days a week and works weekends and holidays as a psychiatric nurse at St Vincent's Hospital in Sydney to support her study.
Ms Kynuna said becoming a doctor seemed a childhood play fantasy, growing up in Yarrabah.
"High school only went to year 10, there were barely any university graduates from my community and zero from my own family, I doubted myself and thought studying medicine was beyond my reach.
"I knew greater healthcare amongst my mob was essential. Death and funerals almost weekly in my world was normal, I later realised this was foreign to my Anglo-Saxon counterparts, something they had barely experienced," Ms Kynuna said.
Destiny completed a nursing degree and began working in renal nursing with the goal of easing the burden of kidney disease in her community, but she soon understood mental health was a key underlying health issue in her community. After completing her medical training she will study further to become a psychiatrist.
"Working in psychiatry, I see many Aboriginal people whom displaced, have faced a loss of identity and culture, I see the importance of treating health holistically and seeing my people over represented within the mental health system has further fuelled my passion to become someone who can make a difference."
Destiny's great, great grandfather was taken from his family at age 13 to Yarrabah, then an Anglican mission. She says each generation in her family has experienced suffering and trauma, down to her immediate family.
"There has been alcohol and drug issues in the generations and my first cousin's children were taken from family and community put into a foster home – so that cycle is never ending.
"There's definitely room for improvement for the mental health of the community and that's why I'm so passionate about psychiatry.
"The AMA scholarship has really helped me balance work and study, allowing me to keep focused on my goals. I'm so grateful for the life I've been blessed with and that's why I want to make a difference.
"I want to go back home and serve my community and ultimately help them to heal," Ms Kynuna said.
The AMA Indigenous Medical Scholarship has been running since 1994, providing $10,000 per annum to an enrolled Indigenous medical student for the duration of their degree.
The 2021 award was presented to Ms Kynuna in Sydney by AMA NSW President, Dr Danielle McMullen on behalf of President Dr Omar Khorshid.
"Destiny's commitment to combining culture and care really shines through and she has already contributed a great deal through her nursing and natural affinity to connect with people," Dr Khorshid said.
"At the end of 2019, there were just over 600 Aboriginal and Torres Strait doctors in the medical workforce, but you could almost count the number of Indigenous psychiatrists on one hand across the whole of Australia.
"Even one person like Destiny can make a big difference to the mental health of a community, because we know Aboriginal and Torres Strait Islander patients do better when they are treated in culturally appropriate settings, with doctors and other healthcare staff who speak their language, understand their culture, and are sensitive to their needs.
"The AMA's Indigenous Medical Scholarship is part of our efforts to grow the Indigenous medical workforce, but much more is needed to provide the culturally appropriate care that Aboriginal and Torres Strait Islander Australians need and deserve," Dr Khorshid said.
Aboriginal and Torres Strait Islander students studying full-time in a medical degree at an Australian university are eligible to apply for the 2022 scholarship. Applications are now open and close 18 February 2022. More information can be found here: