Doctors industrial action underway
Members of the AMA Tasmania and the Tasmanian Salaried Medical Practitioners Society (TSMPS) met last night and overwhelmingly agreed to take immediate industrial action because of an inadequate pay offer from the Tasmanian government after protracted negotiations.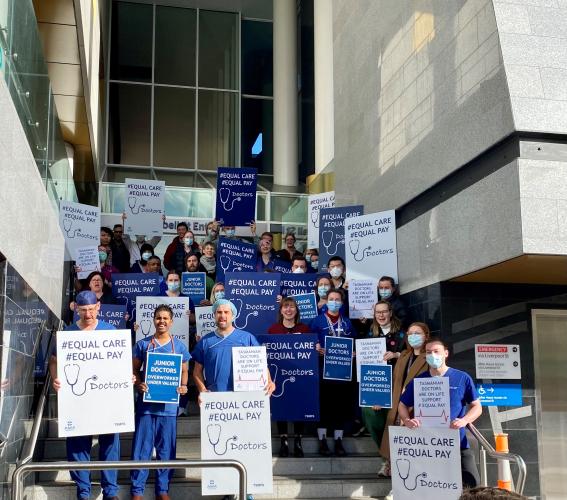 Lead negotiator, Dr Michael Lumsden-Steel, said the decision to commence industrial action was not taken lightly, with members feeling like they had no option but to go down this road.
"The measures we are putting in place will not affect patient care and are necessary and time critical.
"We are taking this action because patients are already experiencing delays to care, and adverse events are occurring daily now due to the Doctor in Training (DiT) and specialist medical practitioner staffing crisis in our hospitals.
"Members have been driven to take this action because we see no other way to reinforce to the government the unacceptable risks in workforce staffing, risks to Tasmanian Health Service (THS) operational capability, but most importantly, risks on adverse events occurring to our patients. This is particularly true at the Launceston General Hospital (LGH), the Northwest Regional Hospital (NWRH) and Mersey, where workforce vacancies and use of locums are at their highest.
"I want to make this clear, this action is not about Tasmanian doctors wanting more money. This action is about Tasmanian doctors wanting colleagues to work beside them.
"This action is about the THS being able to select from a competitive, strong pool of applicants for positions at all levels.
"The rot is already there across the hospitals. From junior to senior positions, doctors are working above and beyond to cover empty shifts and are not able to take their leave. This has affected the entire medical workforce: doctors are exhausted and burnt out.
"Doctors at all levels are sick of watching an expensive locum workforce plug the workforce gaps.
"All doctors know Tasmania is no longer in the market for doctors. We are not competitive, and we are not the choice for doctors to come to train and work in. We are in crisis mode now, with 2024 looking even worse if this Enterprise Bargaining Agreement (EBA) is not resolved as soon as possible.
Dr Lumsden-Steel said the AMA Tasmania and the TSMPS are committed to working with the government to see our workforce grow, for morale to turn around and for a culture of service, loyalty, and pride in our workplaces to return.
"We see this as a minimum of a six to eight-year commitment to rebuild our THS medical workforce. But first, we must stop the exodus and instead attract and retain our high-quality medical students and DiTs, as well as attract and retain specialists.
"We need the Premier and Minister for Health to step in now to fix this pay dispute so that we can bring Tasmania up to the middle of the pack.
"We are not asking to be the best paid doctors in Australia. All we are asking is for our state to be competitive enough that we can attract and retain doctors in Tasmania."
"Some measures that form part of the industrial action include all doctors working to their rostered hours only and taking appropriate lunch and fatigue breaks. Where they must work through their lunch break for patient care reasons, they will claim that as paid time.
"Duties which are not directly related to clinical care and are not time critical, including discharge summaries and other correspondence, will not be performed outside of usual working hours, and all Mandatory Training will be paused.>>>ENDS.