AMA Public Hospital Report Card 2014
The AMA Public Hospital Report Card 2014 provides an analysis of public hospital performance against key performance measures. The Report uses the most recent publicly available data. It also reflects the experiences of the AMA doctors who work in our public hospitals every day.
It shows that despite the structural reforms to health financing under the National Health Reform Agreement and the hard work of a dedicated health workforce, there has been only marginal improvement in public hospital performance against the major performance benchmarks.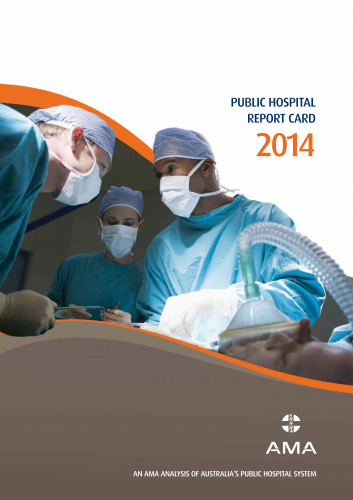 While public hospitals do not have the capacity to meet demand, they will struggle to meet performance targets. Insufficient capacity to meet demand means patient safety and quality care are at risk.
The National Health Reform Agreement (clause 15) provided an explicit commitment that no state would be worse off in the short or long term under the new funding arrangements. The Report highlights that the projected Commonwealth funding for hospital services in recent Budget and MYEFO documents is not on track to honour this commitment.