AMA Public Hospital Report Card 2011
3 Nov 2011
There was little improvement in public hospital capacity and performance across Australia in 2009-10, despite extra Commonwealth funding, according to the AMA Public Hospital Report Card 2011.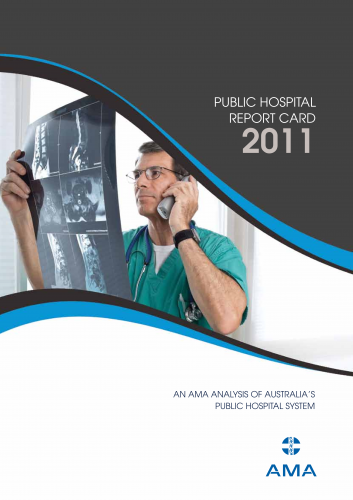 Public hospital performance in every State and Territory is well below targets for access to emergency departments and elective surgery set by the Council of Australian Governments.
It is very much business as usual as public hospitals across the country are struggling to meet demand. They currently do not have the capacity to meet the demands of an ageing population that is also experiencing chronic conditions that inevitably require acute care.
Only 378 new beds were opened across Australia in 2009-10. There are now only 2.6 public hospital beds for every 1000 people, which is down 3.5 per cent from the previous year.
Waiting time
The median waiting time for elective surgery increased to 35 days.
With no real increase in the capacity of public hospitals, patients will wait in emergency departments to be admitted to wards and wait longer for elective surgery.
Elective Surgery
Elective surgery waiting time data were being manipulated by the practice of creating 'hidden waiting lists'. There are people who are waiting to see a public hospital specialist to be assessed for surgery who are not counted in the waiting list data. The clock starts on waiting times for elective surgery only after a patient has seen a specialist and is booked for surgery.
For example, someone who has waited for their hip surgery, according to the 'official' count, may already have waited an additional six months from the time they received their GP referral to the time they first saw a specialist.
Robust, long-term data collection is needed so there is proper year on year monitoring and analysis of hospital capacity and performance.
National Health Performance Authority
The AMA welcomes the establishment of the National Health Performance Authority and we hope that its reporting will ensure that State and Territory Governments are accountable for effective spending of funds provided by the Commonwealth.