AMA Public Hospital Report Card 2010
18 Nov 2010
The AMA Public Hospital Report Card 2010 is an analysis of the most recent publicly available national data on public hospital performance plus more recent feedback from doctors working in public hospitals in all States and Territories.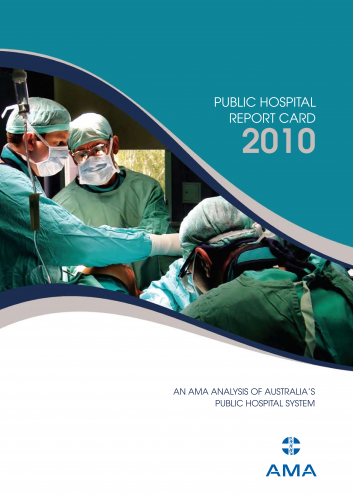 There has been little improvement in public hospital capacity and performance despite significant extra Commonwealth funding as part of the National Healthcare Agreement and specific funding for an elective surgery 'blitz'.
Also from the AMA analysis, the Commonwealth Government's additional funding of $150 million for an elective surgery 'blitz' did not get the desired results.
AMA President Dr Andrew Pesce said the most telling finding of the report card is that there were only 11 new hospital beds opened across Australia during the 2008-09 reporting period.
The AMA wants an accountability framework that will hold governments to account for their role in funding and supporting hospitals into the future so that they have the capacity to meet demand and provide safe patient care.
The report card shows that it is critical that local doctors are centrally involved in the governance and decision-making of the new Local Hospital Networks.
The AMA acknowledges the dedicated and hardworking doctors, nurses and other health professionals who care for patients in public hospitals and hold the system together.