AMA Public Hospital Report Card 2008
12 Nov 2008
The AMA has now released its 2008 public hospital report card in respect of the 2006-07 financial year. This is the second AMA public hospital report card. The last one was issued in October 2007. The report card is based on publicly released information on the performance of public hospitals through the Federal Government's state of our public hospitals report June 2008 and the AIHW's Australian Hospital Statistics 2006-07.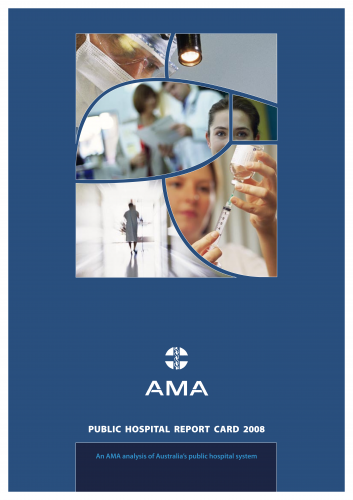 The major issue again this year has been the decline in the Federal Government's share of public hospital funding and the need to establish a proper base level of funding given that 5 yearly renewal of funding is to be ceased. This shortfall in funding is leading to a shortage of beds which is in turn impacting on the ability of public hospitals to meet key performance measures in relation to access to Emergency Department treatments and acute care admissions.
A copy of the media release, AMA: Public Hospitals Flat Lining, can be found at this link.