Roll of Fellows 2015
18 Jun 2015
Dr Iain Stirling Dunlop
MB BS (Hons II), FRANZCO, FRACS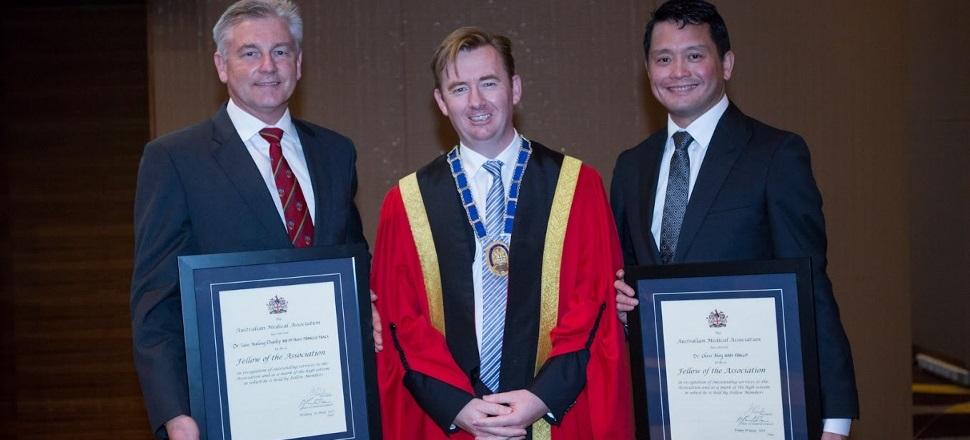 Dr Iain Stirling Dunlop has made a significant contribution to the Australian Medical Association, fulfilling the criteria of providing conspicuous, excellent service to the Association.
Dr Dunlop has served his colleagues through his leadership and involvement with the AMA, AMA (ACT) Limited and the Royal Australian and New Zealand College of Ophthalmologists, as well as through other related organisations, such as Vision 2020 and the Sight for Life Foundation, where he serves as a director.
Dr Iain Dunlop is a privately practising ophthalmologist in Canberra and Sydney and is the recipient of
awards, both national and international; and recently for his work in encouraging relationships with Asia-Pacific ophthalmic societies and his contribution to international organisations to ensure ophthalmology is at the global planning table in terms of advocacy, training support and development work with partner countries, for his commitment to his field of medicine and to advocacy, training and support and development work with partner countries to prevent blindness. Dr Dunlop has had papers published in national and international specialist medical publications. However, it is for his outstanding service and contribution to the Australian Medical Association that we nominate Dr Dunlop for Fellowship.
Dr Dunlop was elected President of the AMA (ACT) Limited in 2010 for a two year term. During his term he was appointed to Federal Council to represent AMA (ACT) Limited. Dr Dunlop contributed to Federal Council and served on the Economics and Workforce Committee, under the Chairmanship of past president, Dr Steve Hambleton, where he made a valuable contribution, whilst at the same time providing leadership to the Board of AMA (ACT) Limited.
However, Dr Dunlop has been serving the AMA in many roles since 2004. These have included serving as the AMA representative to the Australian Medical Council; AMA representative to the Professional Services Review Advisory Committee; AMA representative to the National Disability Insurance Scheme; and AMA representative to the ACHS Council.
Dr Dunlop has served on several committees of the AMA Federal Council including the Economics and Workforce Committee; the Constitution and Policy Review Committee; the Finance Committee; and as Chair of the Ophthalmology Co-ordinating Committee.
In each of these roles Dr Dunlop has given his time willingly, advocating for the AMA, the profession and members across many fora and in many roles.
In 2013-14, Dr Dunlop served the AMA as Chair of Federal Council, (and National Conference) having been elected to this role by his peers, a role which he carried out with his trademark professionalism, courtesy and consideration. His contribution to the deliberations and outcomes of Federal Council discussion is highly regarded. Dr Dunlop's experience in Federal medical politics and his parliamentary relationships have been of benefit to both the profession and the AMA.
With the 2014 constitutional changes to the AMA, Dr Dunlop was nominated by the Board of AMA (ACT) Limited to the new Board of Australian Medical Association Limited, where Dr Dunlop contributes further through his chairmanship of the newly constituted Audit and Risk Committee.
Dr Dunlop has demonstrated his support of the AMA through active involvement for many years which has included serving as President Elect and subsequently President of AMA (ACT) Limited for a period totalling four years in addition to his role and responsibilities to the Federal AMA. During this time, he provided sound stewardship for the VMO negotiations, the Salaried Medical Practitioners Enterprise Agreement as examples of further commitment to his professional organisation and to the members. Dr Dunlop continues to serve as a director of AMA (ACT) Limited whilst at the same time contributing to other AMA and professional roles.
Dr Dunlop has made an outstanding contribution to the Australian Medical Association and is a most deserving candidate for admission to the Roll of Fellows.
---
Associate Professor Robyn Langham
MBBS (Hons) PhD FRACP GAICD
Assoc Professor Robyn Langham graduated from Monash University in 1987 and joined the Australian Medical Association the following year in January 1988.
Assoc Professor Langham was a member of the RMO subcommittee from 1989-1990. She became a member of the AMA Victoria State Council in 2010 and an AMA Victoria Board member in May 2012. She is a member of the AMA Victoria Industrial Relations Sub-Committee, the AMA Victoria/VHIA CME Working Group and represents AMAV on the Medicinal Cannabis Ministerial Advisory Committee.
Assoc Professor Langham has been the AMA Victoria Area Representative on AMA Federal Council since May 2013. She is the Chair of the Medical Practice Committee, a member of the Taskforce on Indigenous Health and the AMA representative to the AMC Specialist Education Advisory Group.
Assoc Professor Langham has held a number of leadership roles in nephrology.
President of the Australian and New Zealand Society of Nephrology from 2006-2008, she then served as Honorary Secretary of the Asia-Pacific Society of Nephrology. From 2008-2011 she was Chair of the Victorian Government Renal Health Clinical Network, and has recently been appointed Secretary General of the International Society of Nephrology. She is currently Associate Professor of Medicine at the University of Melbourne and Director of Nephrology at St Vincent's Hospital in Melbourne. She remains active in contributing to the work of Kidney Health Australia, ANZDATA and CARI Clinical Guidelines Group.
Since graduating, Assoc Professor Langham's first priority, concern and skill has always been the care of her patients and their well-being. She has led a number of innovative clinical initiatives, one recently recognised by a Victorian Government Award for Innovation in Patient Centred Care, the establishment of a Nocturnal In-centre Haemodialysis Program. Assoc Professor Langham was also closely involved in the team that undertook Australia's first hand transplant, with the primary aim of the team the improved quality of life experienced by the patient.
Since completing a PhD in 2001, investigating fibrogenic growth factors of human renal disease, research has remained an important passion, and she has continued her work as a physician researcher, contributing to basic, translational and clinical renal research in her role as Principal Research Fellow at the University of Melbourne. More recently she was part of the team at Fibrotech that developed a range of novel orally active antifibrotic agents for use in human disease.
Much of the work undertaken both in the laboratory and as Chief Medical Adviser to Fibrotech, remains commercial-in-confidence but holds great value in the potential for novel clinically applicable therapies.
Assoc Professor Langham's devotion to the profession extends firmly into teaching and training. Her vast experience makes her a highly sought after speaker at domestic and international conferences. She is involved in curriculum design and redesign, and regularly examines at the University of Melbourne and the RACP. She is well appreciated as a mentor to our future physicians, especially those pursuing nephrology and is a passionate advocate for the role of women in the profession and helping them to understand overcome the barriers they face, and developing strategies to overcome them.
Assoc Professor Langham has made an outstanding contribution to the Australian Medical Association and is a most worthy candidate for admission to the Roll of Fellows.
---
Dr Christopher Moy
MBBS FRACGP
Dr Chris Moy is a General Practitioner who has made significant contributions to the AMA and the community, particularly in the fields of Aged Care, Falls Prevention, End of Life Care, and e-Health.
Graduating from the University of Adelaide in 1991, Chris joined the AMA in 1992. Ownership of an inner Adelaide practice gave him an understanding of the needs of coalface GPs, while the responsibility of caring for a large population of patients in residential aged care facilities (RACFs) gave him a good grasp of the problems besetting this sector. In particular, he saw how poor communication and coordination between the various health care silos –GPs, aged care and hospitals- led to vulnerable older patients being transferred to hospital even when it was medically inappropriate, sometimes against their wishes. It was clear to him that inconsistency in end of life decision-making and care contributed to this problem.
In 2005 he began work on the Aged Care Panel of the Adelaide NE Division of General Practice with his early work including the development of the widely used "2 Page Comprehensive Medical Assessment". This leveraged an underutilised MBS item to encourage GPs to complete a medical summary for patients in RACFs to improve communication in transfers across care and in emergency situations.
The importance of patients documenting their wishes in advance led him to join the Expert Advisory Group of the SA Advance Directives review in 2006. He developed a deep understanding of the complex legislative, ethical and clinical issues inherent in this area that later allowed him to advise the Australian Medical Association (SA) on the Advance Care Directives Act 2013- specifically in the negotiations with the Government on protections for doctors including those when acting in the uncertainty of emergencies, and a confirmation in legislation that doctors cannot be compelled to provide treatment which is of no medical benefit to a dying patient.
In 2010 Chris joined the SA Health End of Life Working Group from which the 7 Step Pathway-Resuscitation Plan was developed. This is being implemented throughout SA as an improved and consistent framework for doctors to make and document decisions about resuscitation and end of life care.
Chris' vision of a coherent statewide approach to end of life care has led him to working on many SA Health committees including the Advance Care Directive Education Subcommittee, the Resuscitation Planning Advisory Group, the End of Life Prescribing Working Group and the Palliative Care Clinical Network Steering Committee.
In 2008 Chris joined the HealthConnectSA Care Planning and Communication Trial and SA Health PrimaryCare Sidebar Project which developed a prototype e-Health record. He subsequently represented the AMA on the Telehealth Advisory Group which oversaw the initial implementation of Medicare funded telehealth across Australia. In 2012 he represented the AMA on the Independent Advisory Committee of the national Patient Controlled Electronic Health Record (PCEHR) where he developed an understanding of the serious usability problems that had arisen in the PCEHR. This led to AMA representation on the National E-Health Transition Authority (NEHTA) Clinical Usability Program Steering Group, through which the AMA has been instrumental in contributing to the repair of the PCEHR, and appointment to the PCEHR Operations Management Committee. In an area prone to over-complexity and hubris, Chris has consistently applied commonsense thinking and the principle that eHealth tools should only assist, and never disrupt, the normal workflow patterns of clinicians.
From 2008 Chris was a member of the Central and Northern Adelaide Local Health Network Falls Prevention Steering Committee which developed a coherent service to reduce falls in older people – an under-recognised problem in health.
While maintaining full time work in general practice balanced by a happy life with a supportive family, Chris has been an active member of the Australian Medical Association (SA) Council as well as various sub committees. In 2014 he began service on the AMA Federal Council.
Chris' contributions to the AMA and the community have been significant, and his willingness to lend a hand when asked has been unwavering.
Dr Chris Moy has made a strong contribution to the Australian Medical Association and is a most worthy candidate for admission to the Roll of Fellows.