Indigenous Medical Scholarship - Profile of Murray Haar
16 Dec 2014
AMA Scholarship helps Murray close the gap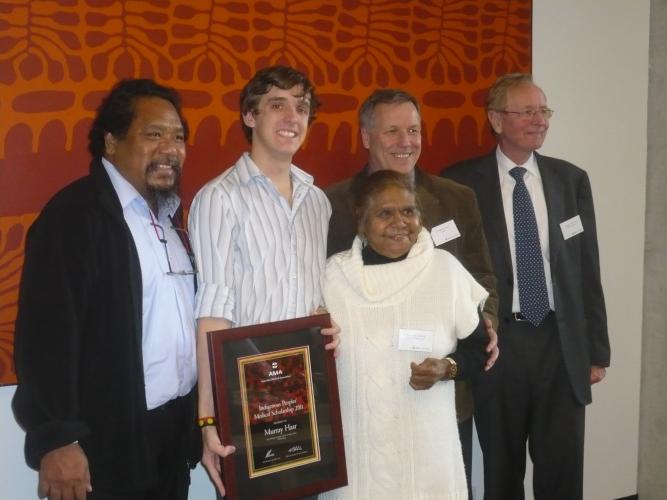 AMA Indigenous Medical Scholarship recipient Murray Haar is one of six Indigenous students graduating from University of New South Wales (UNSW) Medicine this year – one of the biggest cohorts of graduating students in an Australian medicine program to date.
For Murray, graduation means that the Indigenous medical workforce is slowly but surely growing – and that's a great step forward for Aboriginal and Torres Strait Islander peoples.
"For Indigenous patients and their families, especially where the patient is really sick, having a doctor who understands an Aboriginal perspective, understands culture and some of the circumstances of Aboriginal people, is really important," Murray said.
"That connection really helps people in their treatment and ultimately improves their health outcomes."
Growing up in Punchbowl in Sydney's south west, Murray had always wanted to study medicine. Receiving the AMA's Indigenous Peoples' Medical Scholarship from third year onwards made it possible for him to survive financially as a medical student and to focus 100 per cent on his studies.
"You need real dedication to study medicine," he said. "Class contact is five days a week, and there's heaps of study and preparation after hours.
"The AMA's Scholarship has supported me for the last three years and enabled me to give it everything I've got, especially over this last year."
Murray said support had come from the UNSW's Indigenous Unit, Nura Gili, which helps Aboriginal and Torres Strait Islander students through a student network, academic support and tutorial assistance.
UNSW's Rural Clinical School has also been a great help with dedicated staff who assist students with some of the problems they face managing an intensive study program.
Exams and placements are all behind Murray now as he heads off to Albury Base Hospital to start his internship and residency.
"Ultimately, I want to do a mixture of anaesthetics and psychiatry to enable me to work in pain medicine. To specialise, I'll have to go to Sydney, Melbourne or Hobart.
"For the time being though, I am looking forward to living and working in Albury, which is the county of my father's people, the Wiradjuri nation."
To other Indigenous people thinking of studying medicine, Murray is emphatic.
"Definitely don't listen to anyone who discourages you," he said. "There is plenty of support for you, from the university, from scholarships and from other Indigenous doctors.
"There is improvement in the state of Indigenous health, but the gap is still wide. It's really important that we play our part in closing it."