COVID-19: Workforce issues and indemnity arrangements
9 Apr 2020
COVID-19:

Workforce issues and indemnity arrangements
In response to the COVID-19 pandemic, the Medical Board of Australia (the Board) has agreed to a series of new measures that apply to medical practitioners. These include updates to CPD, interns, IMGs and retired doctors.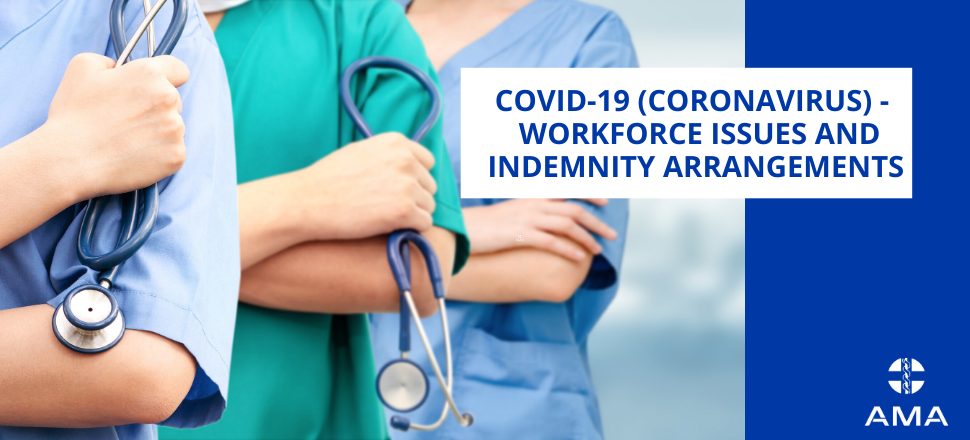 ---
In this section:
---
Am I covered by my medical indemnity insurance for my COVID-19 Telehealth items?
The AMA understands that medical indemnity insurance will cover telehealth activities under practitioner cover, provided you deliver the service in accordance with relevant guidelines and observe any specific requirements for telehealth set by your Medical Defence Organisation.
If you have any specific questions, please call your indemnity provider for individual advice.
The following medical indemnity insurers have provided medico-legal advice in response to COVID-19 for doctors and practices on their website:
---
I am a recently retired Doctor can I return to practice?
Registration
The Australian Health Practitioner Regulation Agency (AHPRA), the Medical Board of Australia, the Nursing and Midwifery Board of Australia and the Pharmacy Board of Australia are establishing a short-term pandemic response sub-register for the next 12 months.
This sub-register will enable doctors, nurses, midwives and pharmacists who previously held general or specialist registration and left the Register of practitioners or moved to non-practising registration in the past three years to return to practice. Only those who were properly qualified and suitable will be returned to the register, which will operate on an opt-out basis. Further details can be found on the AHPRA website.
You do not need to contact AHPRA nor do you need to fill in any forms. AHPRA will be contacting the over 40,000 practitioners who meet the criteria to alert them that they will be added to this new sub-register.
Medical Indemnity Insurance
Retired medical practitioners returning to work for the during the COVID-19 pandemic will not lose their Run Off Cover (ROCs). The AMA has been engaging with the Commonwealth Government regarding the introduction of amended the regulations to ensure that retired doctors who return to do any type of medical service will retain their ROCS cover.
Medical practitioners will still require current indemnity insurance. The AMA expects that some medical indemnity insurers will offer products tailored to the current situation, but practitioners should contact their last medical indemnity insurer for individual advice.
---
I'm a Doctor and I want to help out - where can I go to offer my services?
You should first contact your PHN or local hospital and health service. You can find your local PHN here.
The rural workforce agency in your state will also be able to help you. Their websites are listed here.
---
What is the Medical Board doing in response to the COVID-19 pandemic for CPD, Interns and IMGs?
In a further response to the COVID-19 pandemic, the Medical Board of Australia (the Board) has agreed to a series of new measures that apply to medical practitioners the full release can be found here.
Continuing professional development (CPD)
Medical practitioners are to continue to do CPD that is relevant to their scope of practice. However, the Board will not take action if you cannot meet the CPD registration standard when you renew your medical registration this year.
Requirements for interns
The Board recognises that much education is likely to be 'on the job' and will, therefore, waive the usual rotation requirements for interns in 2020. The Board will accept a range of supervised clinical experience for general registration.
Registration requirements for international medical graduates (IMGs)
Streamlined change of circumstances processes for hospital-based IMGs - The Board will streamline processes to enable IMGs within hospitals with limited and provisional registration to be redeployed more easily without a formal application.
Difficulties demonstrating progression towards general or specialist registration - For 2020, the Board will not refuse to renew an IMG's registration or refuse to re-register an IMG solely because they have not been able to sit an AMC or college examination or assessment.
---
Is the Medical Board likely to announce further changes?
Alternative approaches to demonstrating English language proficiency
The Boards and AHPRA are developing alternative approaches to demonstrating English language proficiency (due to the disruption to testing).
Return to practice for recently retired practitioners
The Board and AHPRA are working to streamline the return to work process for practitioners who have been off the Register of practitioners or who have held non-practising registration for less than three years.