COVID-19: telehealth
9 Apr 2020
COVID-19: telehealth
This guidance supports doctors in any healthcare setting to conduct remote consultations during the pandemic.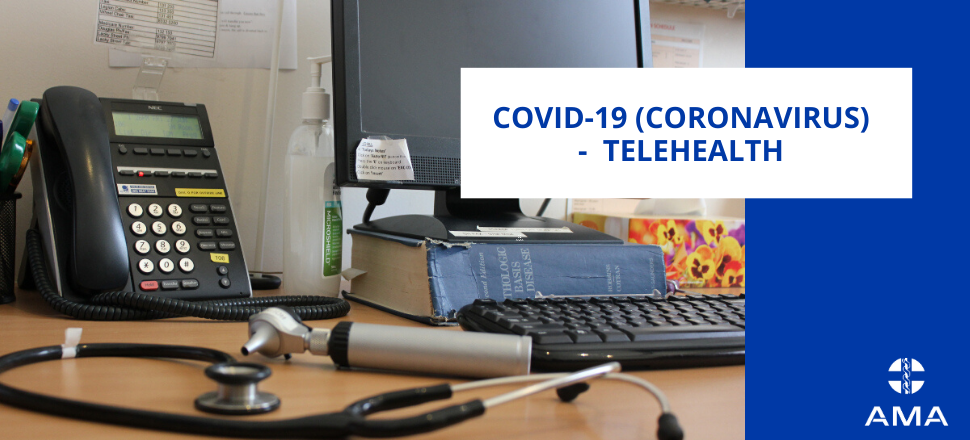 If you have questions about COVID-19? Contact the AMA
In this section:
MBS/Billing questions
Telehealth questions
---
What are the new Telehealth MBS items and who can use them?
Temporary MBS telehealth and phone consultation items were introduced on 13 March in response to the COVID-19 outbreak. These items allow doctors to deliver services via videoconference and phone to patients to reduce the risk of transmission of COVID-19. The Government has determined that these items can only be bulk billed. All Australians are now eligible for all items included.
The telehealth item descriptors largely mirror those of existing face to face consultation items (equivalent items can be found in a table here). The items for telehealth and telephone services have been generalised and expanded since they were first introduced on 13 March.
These services can now be provided to all Medicare-eligible Australians who are not admitted to hospital.
A telehealth service must only be provided where it is safe and clinically appropriate to do so.
The bulk billing incentive has been doubled to better support the bulk billing of General Practice, Diagnostic Imaging and Pathology Services. For doctors providing services to veterans, the DVA VAP fee has doubled for both face-to-face and telehealth services effective 30 March 2020 for the duration of the COVID-19 response.
While the Government is encouraging practitioners to utilise telehealth where it is appropriate and feasible to do so, it also expects that practitioners have in place arrangements to ensure that patients can access face to face consultation where it is clinically required. This does not necessarily have to be with the same practitioner – it can also be with another practitioner working in the practice.
Where a provider needs to conduct telehealth consultations from their home, they should also use their provider number for their primary location.
The new temporary MBS telehealth items have similar requirements to the normal items on which they are based. For example, where an item is usually provided by a patients usual GP, such as a GP Management Plan, the replicant telehealth or telephone item should also be provided by the patient's usual GP.
For information on patient eligibility criteria and regular updates go to MBS online here.
If you feel you and your speciality has been ignored or there are other issues with the COVID-19 telehealth items, please email covid19@ama.com.au with your feedback so that we can follow up on your concerns.
---
What bulk-billing incentives have been doubled?
The Government announced that bulk billing incentives have been doubled. This is for all telehealth services and all face-to-face services too. The items are still only able to be claimed for unreferred services and for patients with concession cards or who are under 16. The incentives have increased to $12.75 per service in major cities, and to $19.30 per service in areas outside metropolitan centres.
The announcement does not mean that the rebate for regular bulk-billed COVID-19 telehealth items has been doubled.
---
Can I charge a gap fee with the Telehealth items?
The bulk billing requirement has been relaxed for providing COVID-19 telehealth services, however practitioners must still bulk bill for all patients who are Commonwealth concession card holders, children under 16 years old and patients who are more vulnerable to COVID-19. This list includes people who are:
at least 70 years old

identify as being of Aboriginal or Torres Strait Islander descent and are over 50 years of age

pregnant

the parent of a child aged under 12 months

being treated for a chronic health condition

immune-compromised
---
How do I qualify for the COVID-19 Practice Incentive Payment?
---
Which Telehealth MBS items can be claimed for Telehealth services to RACF patients?
The expansion of temporary MBS telehealth items in response to COVID-19 enables GPs and other practitioners to provide MBS funded services to patients in residential aged care facilities (RACFs) via video-conferencing or by telephone.
Telehealth consultations must only be provided where it is clinically safe and appropriate to do so.
Medicare rebates for the temporary telehealth items are currently only available when the service is bulk billed.
There are no specific RACF telehealth items. However, GPs or other medical practitioners will be able to claim the corresponding general MBS consultation telehealth item(s) for the service provided.
For example, a GP Level B attendance (MBS Item 23) provided to a RACF patient conducted by video-conference or telephone would attract a 91800 (video-conference) or 91809 (telephone) item.
The new temporary MBS telehealth items will have similar requirements to the normal items on which they are based. You can look up the exact detail of these items are www.mbsonline.gov.au
To see the equivalent telehealth items refer to the GPs and OMPs items Fact Sheet.
---
Do I need my patients signature for bulk-billed services?
While it is still preferred that a physical signature is obtained for an assignment of benefit, the rules have been relaxed for COVID-19 telehealth items only. The new guidelines state that "a practitioner's documentation in the clinical notes of the patient's agreement to assign their benefit as full payment for the service would be sufficient." You can find the full details on page 5 of this FAQ.
The Department has said that a patient can assign their MBS benefit without a physical signature if they come into the practice.
With Medicare Easyclaim, a patient assigns their right to a Medicare benefit to the practitioner by pressing the OK or YES button on the EFTPOS terminal in the practice. Additionally, a patient can assign their benefit to an eligible provider by email or through the signature of a 'responsible' third party.
Up until 30 September 2020, a practitioner can record the agreement for assignment of benefit in the patient's clinical notes then mark the box on the DB020 form that indicates a patient is 'unable to sign'. The reason for a signature not being obtained can be given as 'COVID-19/highly infectious pandemic/risk of exposure to COVID-19/etc'.
---
Do I need to be located in my practice to provide Telehealth services?
Providers do not need to be in their regular practice to provide telehealth services. Providers should use their provider number for their primary location and must provide safe services in accordance with normal professional standards.
---
How do I provide a script to make a referral from a Telehealth service?
You may use mail, email or fax for prescriptions and referrals. Doctors are also authorised to take photos of scripts, however, schedule 8 drugs are not included in this. The AMA supports the fast-tracking of e-prescribing and e-referring underway by the Department of health.
---
Can my practice staff provide COVID-19 Telehealth services?
There are currently no MBS telehealth items that will allow GP nurses to provide telehealth on behalf of GPs.
Allied health professionals can provide telehealth under the Workforce Incentive Program arrangements.
---