2014 Indigenous Peoples' Medical Scholarship Winner - Wayne Ah-Sam
23 May 2014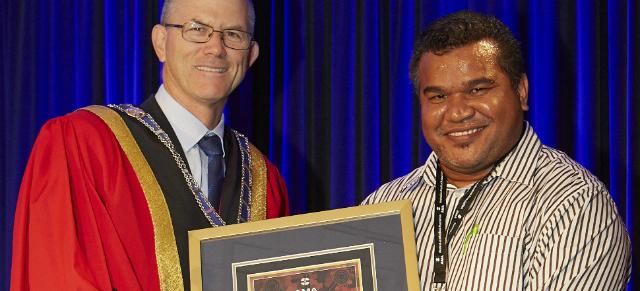 Decades spent caring for remote Indigenous communities on the wrong side of the nation's infamous health gap has left 2014 AMA Indigenous Peoples' Medical Scholarship winner, Wayne Ah-Sam, determined to bring health inequality to an end.
For almost 20 years, Mr Ah-Sam, a proud Kalkadoon/Gungangdji man, did what he could as an Aboriginal health worker to improve health and relieve suffering in far-flung communities across Australia's Top End.
But, two years ago, Mr Ah-Sam realised a new approach was needed.
"I had seen a lot of health issues and inequality which have greatly impacted on our people's health," the father of four said.
"I felt that, as a health worker, I was only scratching the surface of a deep-rooted problem.
"I felt that I could do more to help my people's plight, which forced me to make a decision – stay as a health worker, or maybe study medicine."
Now in his second year of a Bachelor of Medicine degree at the University of Newcastle,
Mr Ah-Sam believes that, as a doctor, he will be able to achieve much more to improve Aboriginal and Torres Strait Islander health.
"I want to be a voice for my people as I sit at the table with the policymakers to maybe influence or effect changes that have positive outcomes," he said.
"There are a lot of negative stereotypes and myths about Aboriginal people and their health.
"Our health can be different and better, just by the changing attitudes, views and beliefs of the broader Australian community and the powers that be."
Outgoing AMA President, Dr Steve Hambleton, today awarded Mr Ah-Sam the AMA Indigenous Peoples' Medical Scholarship, valued at $9000 for each year of study.
Dr Hambleton said the scholarship was designed to encourage and support Indigenous students who are preparing for careers in medicine, particularly those intending to work in Indigenous communities.
"The AMA understands and supports the unique contribution Indigenous health professionals and Aboriginal-controlled health services can make to close the gap and improve the health of Indigenous people," Dr Hambleton said.
Mr Ah-Sam said he intended to "return home" once he finished his degree.
"I see myself returning to country and going to where I am needed the most – somewhere in an Indigenous remote community back home," he said.
The scholarship was established in 1995 with a contribution from the Commonwealth Government.