Rollout enters new phase with arrival of AstraZeneca vaccine
4 Mar 2021
Dr Khorshid said it was positive the vaccine program was underway and Australians had access to a highly effective vaccine against COVID-19.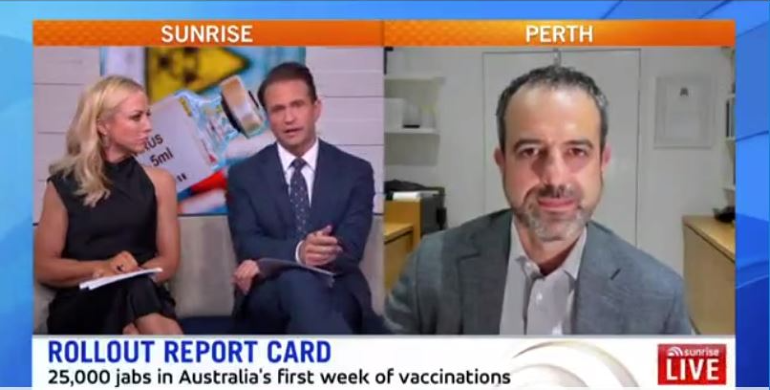 He told Weekend Sunrise it was appropriate our most at-risk Australians and frontline quarantine and healthcare workers were vaccinated first while supplies were still small.
"We are a little behind, but these new 300,000 doses arriving will take the rollout to the next phase with a vaccine that's much easier to transport and refrigerate, but we're really waiting for our local production of the AstraZeneca vaccine so were not reliant on European manufacturers allowing us to have enough of the vaccine."
Dr Khorshid said there would be plenty of vaccines available with an expected with more arriving from Europe in the coming months.
"We're looking forward to 50 million doses being produced here in Australia and by the end of March we'll be producing a million doses a week."
He said meeting the Government's target of vaccinating 4 million people by the end of March would still be "tricky" within only a week or so of the vaccine becoming available locally.
"We've done so well in controlling this virus and stopping it coming into the country, if it takes a few weeks extra than what the Prime Minister originally announced in getting this into the population, it's not going to mean we'll see people dying of COVID because we don't have much of it in the country and we're doing all the right things. We just need to keep doing that while we undertake this massive exercise of getting the vaccine out there to 20 million people."
Despite an early incident where two people received four times the correct dose of vaccine in Queensland, Dr Khorshid reassured Australians every doctor and nurse involved in the rollout will have been appropriately trained.
"What that means is that when you turn up fort your vaccine at your GP, you can be absolutely assured that everybody there knows what they're doing, they will look after you, and the best thing is these vaccines are really safe, so even if there is a repeat of that unfortunate incident this week, Australians can be assured that it's that it's not going to be a risk to their health."
Dr Khorshid told Karl Stefanovic on Today Australians understand that vaccines save lives with childhood rates of vaccinations at around 95 per cent.
"Australians do understand how the vaccines work and they're an important tool in an arsenal of protecting Australian lives.
"There will be some people who are a little hesitant, but the very strong message from the entire medical professions – and we're completely in consensus on this – these vaccines are completely safe – they are amazingly effective and the data coming out of the UK on the two vaccines we're using is really encouraging and they could be our way out of this pandemic."