COVID-19 - Free AMA webinar for GPs on vaccination program
5 Feb 2021
Missed the webinair? Watch it here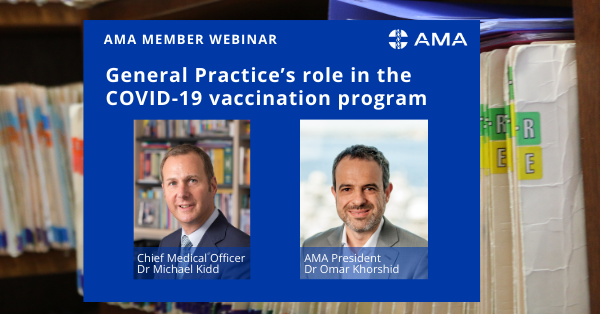 More than 5000 general practices have applied to join the Federal Government's COVID-19 vaccine rollout in less than a week, indicating an overwhelming level of interest in participating in Australia's biggest public health campaign ever.
The AMA and the RACGP joined forces to negotiate adequate remuneration for general practices to oversee the administration of the yet-to-be-approved AstraZeneca vaccine, including incentive payments to deliver the vaccine after hours and on weekends.
AMA President, Dr Omar Khorshid, is hosting a free webinar for AMA members and their practice managers on the arrangements on Friday, 5 February, from 3.30pm.
Acting Commonwealth Chief Medical Officer, Professor Michael Kidd, will outline details of the national vaccination program, focusing on utilising the strength of General Practice.
To register your attendance and to receive Zoom details, please click here.
Dr Khorshid said GPs are the best placed practitioners to deliver the vaccine, as they can handle questions of consent and deal with potential side effects of the vaccine, and are familiar with multi-dose vaccines.
He warned, however, that the number of sites for vaccinations needed to be increased after phase 1B to adequately serve regional Australia.
He said the Federal Government planned to have 1,000 sites for phase 1B.
"We need this rollout to be broader," he said.
"Clearly as we move into phase 2 we need thousands of sites to be involved."