Extension of GP COVID vaccination rollout announced at Canberra press conference
27 May 2021
AMA President Dr Omar Khorshid was alongside the Prime Minister and Health Minister yesterday as the Health Minister called for 900 new general practices to join the vaccination program. General practices have until Monday midday to apply.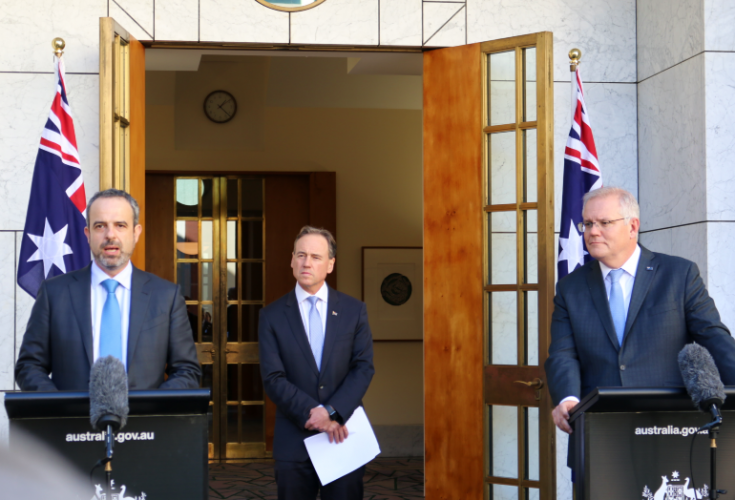 The press conference at Parliament House also covered the latest COVID outbreak in Melbourne.
AMA President Dr Omar Khorshid said Australians could not be complacent about COVID-19 and should not delay getting vaccinated. He said the Melbourne lockdown was a "wake up call" for every Australian.
"The events of the last few days have demonstrated that COVID is a real and present threat to all of us,'' he said.
"This is a wake-up call, a reminder that COVID is real, it is here now and the best thing you can do as an Australian, not just for your own health but the health of the people around you, is to go and get your vaccine as soon as it is available to you."
He said he was confident Victoria would succeed in containing the virus once again.
At the press conference Health Minister Greg Hunt also announced $2.6 million dollars in funding for the AMA through its Drs4Drs program to support the mental health and well-being of doctors and medical students.
Meanwhile, general practices have until midday AEST on Monday to apply to be a part of the next stage of the vaccination rollout.
Primary Health Networks (PHNs) will coordinate the process within their regions.
All general practices are invited to apply, however, practices located within and around the regions identified to have limited access to COVID-19 vaccines will be prioritised.
Please see the expression of interest form here.