Service of doctors recognised once again in Honours List
Many hard-working, brilliant doctors have been honoured in this year's Australia Day Honours List.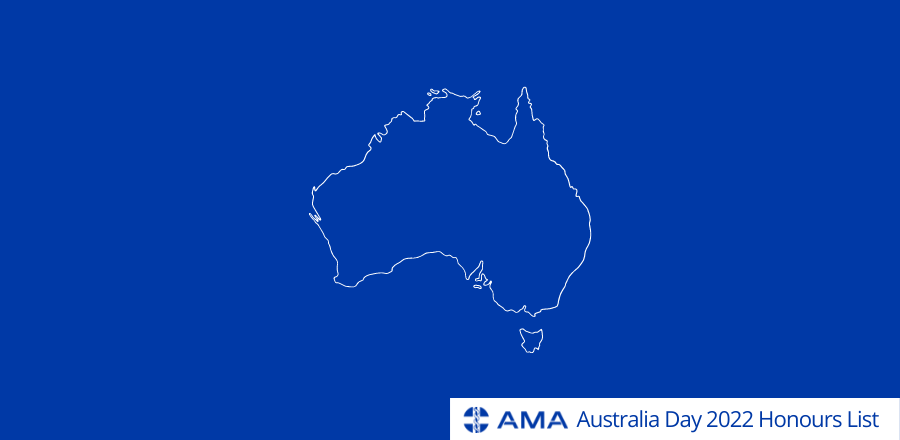 The Australia Day Honours list recognised more than 35 members of the AMA for their service to medicine and the community.
Clinical Associate Professor Saxon Smith AM was made a Member in the General Division of the Order of Australia. Dr Smith is a dermatologist who conducts complicated and often life-saving work for patients with specific needs associated with oncology, renal or neurological conditions.
Dr Smith is a former AMA NSW President and has served on the AMA Federal Council. In 2019, he was admitted as an AMA Fellow in response to his many years of service to medicine and the work of the AMA.
Dr Margaret Kay AM was also honoured as a Member of the Order of Australia. Dr Kay's clinical and research areas of interest include doctors' health and refugee health.
Dr Kay established the Refugee Health Network of Australia and was the inaugural medical director of the Queensland Doctors Health Program and was Chair of the Expert Advisory Committee to the national Doctors Health Program for several years.
Associate Professor Gino Pecoraro OAM received a Medal of the Order of Australia for his service to the community through his work as an obstetrician and gynaecologist, with a special interest in high-risk obstetrics.
A/Prof Pecoraro is the immediate past Board Chair of the Federal AMA and a former AMAQ President.
The AMA extends congratulations to all the doctors who have been honoured.
AM:
Professor Prithvipall Singh Bhathal
Dr Catherine Duncan
Associate Professor Robert Farnsworth
Professor Prudence Francis
Associate Professor Leeanne Grigg
Dr Richard Harper
Professor William Heddle
Dr Geoffrey Herkes
Dr Margaret Kay
Professor Alfred Lam
Professor Helen Marshall
Professor Peter Morley
Clinical Associate Professor Saxon Smith
Professor Elsdon Storey
Professor Bronwyn Stuckey
Professor Sandra Thompson
OAM:
Clinical Professor Catherine Birman
Dr Marie-Frances Burke
Dr Robert Edwards
Dr Louise Farrell
Professor Cherrie Galletly
Professor Kurt Gebauer
Dr Peter Gianoutsos
Dr Stephen Godfrey
Dr Denis Gordon
Dr Matthew Gray
Dr Kerry Hancock
Professor Elizabeth McCusker
Dr Bradley Murphy
Dr Gino Pecoraro
Dr Ramin Samali
Dr Deborah Simmons
Dr Harry Stalewski
Mr Garry Davis
Dr Conrad Winer
Dr Furio Virant