AMA meets Prime Minister on COVID-19 vaccine rollout
Dr Khorshid was part of a delegation of medical leaders who met with Prime Minister Scott Morrison and Health Minister Greg Hunt last week to discuss a range of issues relating to the COVID-19 vaccine roll out and the health system more broadly.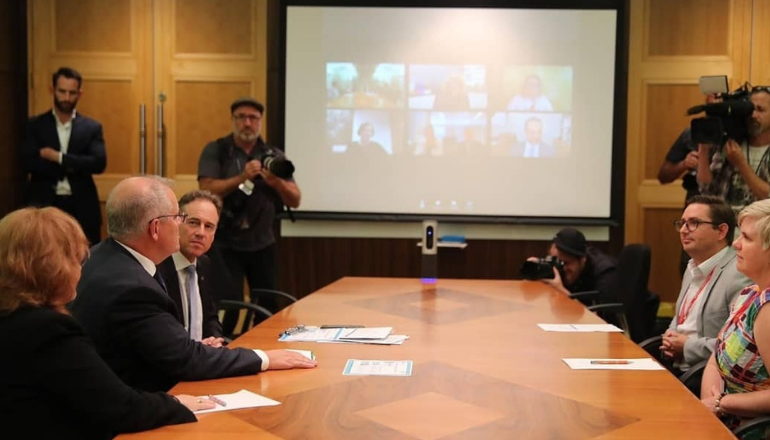 Dr Khorshid used the meeting to raise concerns about Phase 1B of the rollout, which triggered a rush of patients trying to book a COVID-19 vaccination in general practice.
"We discussed how the AMA is working closely with the Government and is ready to increase the number of vaccinations delivered through GPs, once manufacturing and supply increases," Dr Khorshid said.
"GPs are constrained by their supply of vaccines and the AMA urged the Prime Minister to do more to ensure the vaccines are delivered in sufficient quantities to where they are needed."
The AMA has already encouraged the Government to make it clear to the public that the rollout will take time, but to reassure the community that General Practice is up to the task.
"It will take time, and it is GPs who are best placed to identify those who should be given the earliest appointments for vaccination," Dr Khorshid said.
"Those eligible for vaccination in Phase 1B will receive their vaccination – but not necessarily in the first week."
The AMA also raised the importance of continued education campaigns focussed on vaccine confidence and the need for a vaccine indemnity scheme – something the Prime Minister agreed should be considered.
"I also took the opportunity to talk to the Prime Minster about the critical issues of aged care and the importance of responding to the Royal Commission, and urged his Government not to forget we still have much more work to do on other health issues, such as private health insurance," Dr Khorshid said.