Doctors around the globe feeling same stressors from COVID-19
19 Aug 2021
Doctors shared a commonality of COVID experiences at NatCon and heard how others took care of themselves.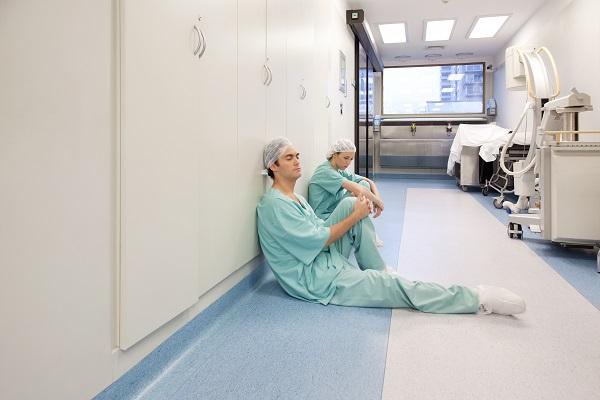 Fears of passing on a deadly virus to loved ones, dealing with bereft families of the many dead and tough choices about which suffering patient should get the ventilator were common experiences of frontline doctors when COVID -19 first struck nations around the world.
Medical representatives from the United States, United Kingdom and South Africa revisited these stressors and outlined some solutions with Australian colleagues at the AMA National Conference.
Belfast GP, Dr Rose McCullagh, described a medical environment with zero experience of the new coronavirus and doctors leading a "Trappist-like existence" suffering sleepless nights, anxiety and the extra stress of numerous questions and concerns from family members turning to them for information about the virus, which was still unknown.
"The Thursday night 'clap' helped – when people came outside their doors and applauded health workers, it was nice to be acknowledged, but in March 2020 when the requirement for appraisals for doctors' CPD was lifted, this was a big relief."
Country-specific factors placed an extra burden on doctors such as poverty, violence and a weakened economy in communities in South Africa. Courtney Cooper, National Officer for Human Rights and Peace of the International Federation of Medical Students' Associations told the conference from Pretoria corruption is a major feature affecting healthcare.
"A majority of South Africans are unemployed, malnourished and many have HIV or TB, and riots – which increased transmission of the virus – also caused 71 vaccination sites to be abandoned and we lost 47,500 vaccines to corruption during the third wave," said Ms Cooper.
"With substance abuse and gender-based violence a big problem for women, one solution that helped was banning alcohol over the Christmas and New Year period. This saw a 25 to 50 per cent drop in transported emergencies to hospitals, casualty was nearly empty and this freed up many beds and allowed doctors to focus on COVID-19 patients who needed them."
President of the American Medical Association, Dr Gerald Harmon, said in the US, 3,600 frontline healthcare workers have died, including 600 doctors. He cited the regulatory burden and inefficient electronic administration contributing to doctors' long hours and burnout.
"Doctors spend one hour of non-clinical time for every two hours of clinical work, so that increases our workload every day and makes us drag our feet and hang our heads. Now throw covid into it and we see why 30 per cent of doctors expressed anxiety and two-thirds of us are fearful of contracting COVID-19. Despite this, our members report feeling more valuable and a renewed sense pf purpose," he said.
"Improving electronic record-keeping and removing restrictions to telemedicine are some solutions that can assist."
Deputy Chair of the Council of the British Medical Association (BMA), Dr David Wrigley, praised the National Health Service (NHS) as an "amazing institution" but experiencing a shortage of 10,000 doctors, 50,000 nurses and waiting lists of five million people.
He said Prime Minister Johnson, incentivising people to "eat out to help out" over the summer by halving restaurant bills, led to more restrictions and over 1,600 deaths per day.
"This was really shocking for the BMA, but in the UK, vaccination has been huge success and has seen a big reduction in deaths, hospitalisations and serious illness.
"Doctors and health professionals have struggled and we need to look after the workforce. Offering 24-hour helplines and counselling services was something we did for doctors who are notoriously bad at seeking help for themselves."
This sentiment was echoed by Dr Roger Sexton, Medical Director at Doctors Health South Australia, who said doctors are very good at covering up the fact they may not be coping. He outlined the services available through Drs4Drs, such as a national helpline for doctors offering 24/7 health advice and unhurried consultations.
The session was convened and chaired by AMA CEO, Dr Martin Laverty and Secretary General and CEO of Doctors Health Services, who observed "patients come first" is an adage still being applied around the world. He hoped the session would highlight the need for doctors to take opportunities for self care.
To access doctor health services, visit www.drs4drs.com.au