Federal AMA mentioned 360 times across TV, radio and print this week
1 Apr 2021
The AMA has been busy on the media front this week with appearances on SKY News, 7.30 with Leigh Sales, ABC News Breakfast and the Today Show in addition to numerous radio and print interviews.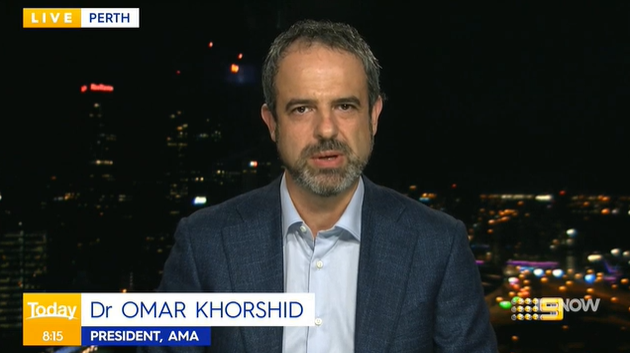 Questions surrounding the efficacy of the COVID-19 vaccine rollout and the rapid moving outbreak in Greater Brisbane were headline stories for national news outlets with the AMA front and centre providing expert insight and advice to the Australian public.
AMA President Dr Omar Khorshid told Leigh Sales on the ABC's 730 Report there's still no room to become complacent.
"The need for lockdowns is something that there are differences of opinion around the various states. We've certainly seen them being highly effective. But on the flipside, the public question whether they're necessary when you don't see much transmission going on in the community," Dr Khorshid said.
Dr Khorshid told the Today Show on Thursday it is crucial all frontline staff are vaccinated as soon as possible.
"The message is for the states you've got to get your frontline healthcare workers and your frontline quarantine workers vaccinated right now – that is where our risk is – let's get them done and then we can actually take our time to roll this out as carefully and as safely as possible throughout the rest of the community," Dr Khorshid said.
"When the transmission occurred to the doctor, in this particular case, Queensland had vaccinated around half of its front-line healthcare workers. They're now getting towards 90 per cent. And that shows that they could perhaps have done a little better than only 50 per cent two weeks ago," he said.
AMA Vice President Dr Chris Moy explained to Madeleine Morris on ABC News Breakfast hundreds of clinics are coming online every week.
"As a general practitioner, we actually had a meeting with the Minister (this week) and we said, look, we're ready to go, we need that supply as fast as possible because it's actually been pretty calm out in the community in getting it out there. For the community, in phase 1b, we need that supply as fast as possible now.
"The thing about the Pfizer, it's only coming in dribs and drabs from overseas at the moment. So hopefully as long as we can get that continued supply, as long as Europe don't hold it up, we should be okay. They have had to hold it back for assurance to get that second dose," Dr Moy said.