Chair of Federal Council introduces puppies to parliamentarians
Dr Khorshid wasn't the only one visiting parliamentarians in Canberra this week. Three seeing eye dogs from Vision Australia were also on the Hill accompanied by Victorian AMA President, Associate Professor, Julian Rait.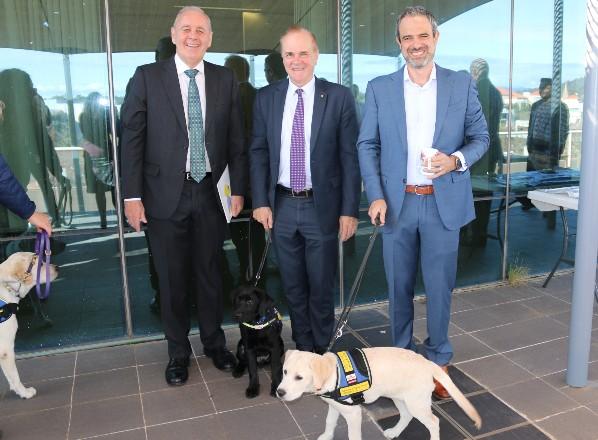 In his final weeks as President of AMA Victoria, A/Prof Rait took the rare opportunity to travel from Kensington, Melbourne by plane, with Bingo, Dory and Olga, three of the cutest and diligent seeing eye dogs from Vision Australia.
A/Prof Rait, who is also on the board of Vision Australia, was raising awareness amongst Australia's politicians of the important work involved in breeding, training and providing seeing eye dogs to those with vision impairment.
"The puppies provide independence and companionship to people who are blind or have low vision, ensuring they can be self-reliant and lead active lives," A/Prof Rait said.
"The seeing eye dogs of Vision Australia are actual NDIS providers and it costs $100,000 to train each dog. It's very specialised training and depending on the puppy, it can take 18 months to two years to fully train a dog, but it's life-changing for people."
Trainers, Brit McCarthy and Jane Bradley of Seeing Eye Dogs Vision Australia said labradors are best suited for the work of seeing eye dogs as they love to learn and bond well with their human companions.