The world is watching. AMA advocacy goes global
11 Mar 2021
The AMA's advocacy captured international attention this week when Dr Khorshid appeared on BBC World News and the Arab satellite news network Al Jazeera TV, reaching millions of people world wide.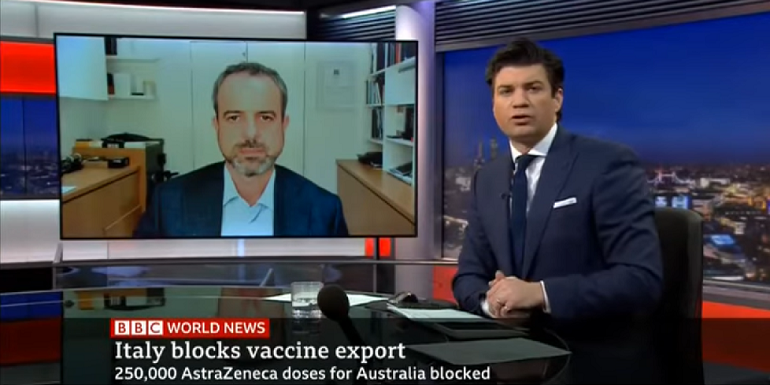 When the European Commission made good on Italy's threat to ban vaccine exports to Australia, the world wanted to know what we thought.  
It was the first time new discretionary export laws, created by the European Union in January, had been applied, preventing a shipment of 250,000 AstraZeneca vaccines from leaving the European bloc.  
The AMA was approached by both Al Jazeera and BBC World for comment.  
Dr Khorshid said while the export ban wouldn't harm our national vaccination program, Australia had just as much right as any other country to access vaccines though contracts negotiated by our government with the large manufacturers.  
"It's very disappointing to see this vaccine nationalism rearing its head. We are a little protected with our up-coming local availability but for the moment, Australia is completely dependent upon importing vaccines into the country," Dr Khorshid told BBC World News.   
He said Australia was doing the right thing by being part of the COVAX initiative and promising to supply our pacific neighbours with locally-produced vaccines once production ramps up.  
"It's a little Ironic that Europe didn't seem too keen on the AstraZeneca vaccine just a few weeks ago, with pretty negative comments coming from national leaders, and then all of a sudden, once the UK experience demonstrates it's actually a really good vaccine – we see a shipment to Australia blocked." 
He said strong public health measures and isolating ourselves though border closures meant Australia had seen very little community transmission of late and not a single death since October last year.  
"There's no urgency in Australia, but the vaccine - like for every other country around the world, is our way out of this pandemic; our way out of the snap lockdowns we see when a case does get into the community with the subsequent mental health impacts, physical health impacts and economic impact on every Australian. We're still dependent on vaccines and looking forward to our own local production due to start late March," he said. 
The appearances on global TV news channels are the latest requests for AMA commentary from quality international media outlets. Dr Khorshid was recently interviewed by The Economist after the AMA's position statement on Health Literacy was noticed by its global thought leadership hub The Economist Intelligence Unit.  
Vice President Dr Chris Moy has given an interview to the Financial Times of London for a forthcoming article on Australia's plans for a billion-dollar vaccine production facility and vaccine nationalism.  
Proof the AMA's advocacy is resonating across the globe and our figureheads are truly global thought leaders. The world is watching.  
You can see Dr Khorshid's BBC interview here.